DALLAS AIRPORT (DFW) INFORMATION
Origin
Airline
Flight no.
Scheduled
Est./Actual
Status
No flight arrivals were found at Dallas Airport.
Destination
Airline
Flight no.
Scheduled
Est./Actual
Status
No flight departures were found at Dallas Airport.
Car Hire at Dallas Airport
UNBEATABLE VALUE CAR RENTAL
Free Amendments | Free Cancellations | No Card Fees




Dallas Airport - All Information on Dallas Airport (DFW) Dallas Airport
3200 East Airfield Drive, DFW Airport, TX 75261, USA
phone +1 972 973 8888
phone+1 (972) 973 4420 (Lost + Found)
emailAirportInfoCenter@dfwairport.com
Facts and History about Dallas Airport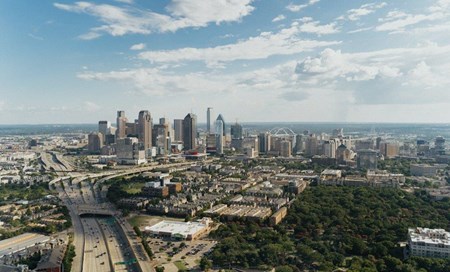 The public airport of Dallas-Fort Worth is located in the United States of America, between the two cities of Dallas and Fort Worth. This large destination in Texas handles over 69 million passengers per year, and is the eight busiest airport in the world. It is also the third busiest in the world in terms of aircraft movements. The airport has the official IATA code of DFW, and ICAO code of KDFW, and generally serves the larger Dallas-Fort Worth metropolitan area. Dallas Airport handles a large number of domestic passengers per year, as well as regional and international flights, and is a hub for major airline carriers such as American Airlines and American Eagle.
Arrivals and Departures at Dallas Airport
At Dallas-Fort Worth, there is a total of seventeen airline carriers, of which eleven are domestic and six are of foreign flag. These airline carriers serve over 180 destinations, the majority of destinations served by the airport are domestic, as approximately only 46 of all its destinations are international. The most popular flights from Dallas Airport head towards the cities of Atlanta, Los Angeles, Chicago, Denver, Las Vegas, Phoenix, San Antonio, Austin, New York and Miami. Over a million passengers a year fly to Atlanta.
Other destinations served by American Airlines include Birmingham, Colorado Springs, Cleveland, Fort Lauderdale, Houston-International, Kansas City, New Orleans, Washington-International, San Francisco and many more, while American Eagle offers flights to Brownsville, Greenville, Jackson, Knoxville, Lake Charles, Manhattan, Little Rock and Longview. Other airline companies at Dallas-Fort Worth Airport include Air Canada Express, with flights to Toronto-Pearson, AirTran Airways heading for Atlanta, British Airways with flights to London-Heathrow, Continental Airlines, Delta Air Lines, KLM, Lufthansa, Sun Country Airlines, United Airlines and Virgin America. The international destination of Amsterdam is served by KLM. Dallas-Fort Worth Airport is significant in terms of cargo transportation as well, and was, in 2006, named as the 'Best Cargo Airport in the World'. Some of the cargo carriers at the airport include Air China Cargo, BAX Global, Cathay Pacific Cargo, FedEx Express, Lufthansa Cargo and Singapore Airlines Cargo.
The history of Dallas-Fort Worth began in 1974, when it was opened on its site just north of Arlington, and nearby Irving. At this time, Dallas was the largest and most expensive airport in the world. Two airfields nearby were constructed in much earlier years. These are known as Dallas Love Field and Meacham, which is more specifically Fort Worth's local airport. Another location was used in the 1960's, at Amon Carter Field, and was named as the Greater Southwest International. This site was purchased by Fort Worth in order to compete with the more popular Dallas Love Field, and many commercial flights were transferred from Meacham to the new destination in 1953. However, Love Field Airport continued to prosper, and since that 49% of all Texas air traffic was accounted for by it, the abandonment of the Greater Southwest Airport was inevitable. Dallas Love Field later became congested, with no more room to expand, and therefore Dallas-Fort Worth was finally planned for construction on a site almost perfectly equidistant from the two city centers. In 1973 the first aircraft landed at DFW. In 1979 all long-distance flights were ceased from Dallas Love Field, and DFW Airport was the only one in the metropolitan area offering services on larger long-haul commercial flights. Over the years the terminal buildings at the airport were rebuilt and new runways were constructed. The four existing runways were also lengthened.
Dallas-Fort Worth Airport now consists of five terminal buildings and seven runways, and is the only airport in the world with four serviceable paved runways of over 4,000 meters in length. Although already a huge airport, Dallas-Fort Worth has much room for expansion. Theoretically, thirteen terminals can be constructed on the site, with a total of 260 gates. The current terminals of the airport are known as Terminal A, B, C, D and E, and are all semi-circular in shape except for Terminal D, which is a 'square U' shape, and also the newest of the terminals. In earlier years the terminals were once referred to by number as well as a letter suffix, for example 'E' for East, but are now simply A to E. The Skylink replaced the old people mover train (Airtrans APM) in 2005, and is the world's largest airport train to date. The new Skylink is bi-directional and is much more efficient than the airport's older system. Buses are also available for transfer between the terminals.
Suffice to say, Dallas Airport is well equipped with numerous car rental companies, buses, trains and taxi services.
American Airlines, for which Dallas-Fort Worth Airport serves as a major hub, operates from Terminals A, C and D, while Terminal B and D are home to American Eagle. Terminals A, B and C and dedicated only to these major airline companies, while Terminal D and E handle a variety of other companies as well. American Airlines handles all domestic flights from Terminal C, while Terminal D is the international terminal, capable of handling 11.7 million passengers per year. The Grand Hyatt DFW Hotel is directly connected to this terminal, and non-flying guests of the hotel can obtain a pass to visit the shops and restaurants of the airport. There is also a new eight-level parking garage with 8,100 parking spaces for Terminal D. Facilities within the terminals include banking options, currency exchange services, VIP lounges, WiFi connections, children's play areas, and countless shopping and dining opportunities. The airport also features a Corporate Aviation facility, and some admirable artwork in Terminal D and the Skylink Train Stations by over 30 local, national and international artists.
It is possible to enter the following GPS coordinates 32.89694, -97.03806 to aid you in your travelling to and from Dallas Airport.
Hotels near Dallas Airport
There are a number of hotels to suit all budgets and requirements at or near Dallas Airport.
Parking at Dallas Airport
See options for parking services at Dallas Airport.
Additional Services and Amenities at Dallas Airport
At Dallas Airport you will find the usual array of bars and restaurants, airport lounges and shops.
Things to do in Dallas
There are a number of activities to suit all ages and interests in the region - see a selection of tourist activities in Dallas, Texas in the United States of America.
Services at Dallas Airport
Useful Information about Dallas Airport