Flights, Arrivals & Departures at Dallas Airport
Origin
Airline
Flight no.
Scheduled
Est./Actual
Status
Jacksonville (VQQ)
American Airlines
AA9784
00:02
23:36
Landed
Santa Ana (SNA)
American Airlines
AA2100 expand_more(1)
00:16
23:33
Landed
Santa Ana (SNA)
Alaska Airlines
AS6106
00:16
23:33
Landed
Phoenix (PHX)
American Airlines
AA1342 expand_more(2)
00:21
01:03
Landed
Phoenix (PHX)
British Airways
BA5453
00:21
01:03
Landed
Phoenix (PHX)
Gulf Air
GF6535
00:21
01:03
Landed
Phoenix (PHX)
Frontier
F92700 expand_more(1)
00:23
00:14
Landed
Phoenix (PHX)
Volaris
Y42681
00:23
00:14
Landed
Charlotte (CLT)
American Airlines
AA1082 expand_more(4)
00:24
23:49
Landed
Charlotte (CLT)
Alaska Airlines
AS6249
00:24
23:49
Landed
Charlotte (CLT)
Gulf Air
GF4209
00:24
23:49
Landed
Charlotte (CLT)
Malaysia Airlines
MH9420
00:24
23:49
Landed
Charlotte (CLT)
Qantas
QF4330
00:24
23:49
Landed
Orlando (MCO)
Spirit Airlines
NK1015
00:29
02:00
Landed
Las Vegas (LAS)
Frontier
F92136 expand_more(1)
00:44
00:17
Landed
Las Vegas (LAS)
Volaris
Y42243
00:44
00:17
Landed
Las Vegas (LAS)
Spirit Airlines
NK2700
01:48
01:40
Landed
New York (LGA)
Frontier
F92607
01:53
03:06
Landed
Chicago (ORD)
Asiana Airlines
OZ244
04:30
05:50
Landed
Seattle (SEA)
Alaska Airlines
AS542 expand_more(2)
04:44
05:24
Landed
Seattle (SEA)
Korean Air
KE6119
04:44
05:24
Landed
Seattle (SEA)
Qatar Airways
QR2102
04:44
05:24
Landed
Los Angeles (LAX)
American Airlines
AA1582 expand_more(5)
05:00
04:30
Landed
Los Angeles (LAX)
Air Tahiti Nui
TN1358
05:00
04:30
Landed
Los Angeles (LAX)
British Airways
BA4747
05:00
04:30
Landed
Los Angeles (LAX)
China Southern Airlines
CZ1660
05:00
04:30
Landed
Los Angeles (LAX)
Finnair
AY4197
05:00
04:30
Landed
Los Angeles (LAX)
Gulf Air
GF4195
05:00
04:30
Landed
Las Vegas (LAS)
American Airlines
AA1774
05:00
04:18
Landed
Ontario (ONT)
American Airlines
AA2191 expand_more(1)
05:04
04:21
Landed
Ontario (ONT)
British Airways
BA5106
05:04
04:21
Landed
Bogota (BOG)
American Airlines
AA1122
05:10
05:16
Landed
Los Angeles (LAX)
Spirit Airlines
NK471
05:20
04:44
Landed
Sacramento (SMF)
American Airlines
AA2971
05:23
04:47
Landed
Seattle (SEA)
American Airlines
AA1326 expand_more(2)
05:25
05:10
Landed
Seattle (SEA)
Gulf Air
GF4235
05:25
05:10
Landed
Seattle (SEA)
Qatar Airways
QR9289
05:25
05:10
Landed
San Francisco (SFO)
American Airlines
AA2404 expand_more(3)
05:33
05:02
Landed
San Francisco (SFO)
British Airways
BA5601
05:33
05:02
Landed
San Francisco (SFO)
Gulf Air
GF6536
05:33
05:02
Landed
San Francisco (SFO)
Qantas
QF3294
05:33
05:02
Landed
Portland (PDX)
American Airlines
AA1956 expand_more(1)
05:46
05:26
Landed
Portland (PDX)
British Airways
BA6536
05:46
05:26
Landed
Fort Hood (GRK)
American Eagle
AA3919 expand_more(1)
06:04
05:36
Landed
Fort Hood (GRK)
Alaska Airlines
AS4304
06:04
05:36
Landed
Maui (OGG)
American Airlines
AA116
06:05
05:44
Landed
Oklahoma City (OKC)
American Airlines
AA1166 expand_more(2)
06:07
Scheduled
Oklahoma City (OKC)
Alaska Airlines
AS4524
06:07
Scheduled
Oklahoma City (OKC)
Jet Linx Aviation
JL7269
06:07
Scheduled
Honolulu (HNL)
American Airlines
AA102 expand_more(2)
06:11
05:33
Landed
Honolulu (HNL)
British Airways
BA4427
06:11
05:33
Landed
Honolulu (HNL)
Qantas
QF3279
06:11
05:33
Landed
Los Angeles (LAX)
American Airlines
AA971 expand_more(3)
06:15
05:42
Landed
Los Angeles (LAX)
Air Tahiti Nui
TN1180
06:15
05:42
Landed
Los Angeles (LAX)
Cathay Pacific
CX7603
06:15
05:42
Landed
Los Angeles (LAX)
Malaysia Airlines
MH9459
06:15
05:42
Landed
Waco (ACT)
American Eagle
AA3095 expand_more(1)
06:16
Scheduled
Waco (ACT)
Alaska Airlines
AS6658
06:16
Scheduled
San Antonio (SAT)
American Airlines
AA2342 expand_more(1)
06:16
05:48
Landed
San Antonio (SAT)
Alaska Airlines
AS6380
06:16
05:48
Landed
Amarillo (AMA)
American Eagle
AA3953 expand_more(1)
06:17
Scheduled
Amarillo (AMA)
Alaska Airlines
AS6694
06:17
Scheduled
Austin (AUS)
American Airlines
AA2563
06:17
05:38
Landed
San Angelo (SJT)
American Eagle
AA3160 expand_more(1)
06:17
Scheduled
San Angelo (SJT)
Alaska Airlines
AS6023
06:17
Scheduled
Lawton (LAW)
American Eagle
AA3143
06:18
05:54
Landed
Anchorage (ANC)
American Airlines
AA399 expand_more(2)
06:19
Scheduled
Anchorage (ANC)
British Airways
BA1665
06:19
Scheduled
Anchorage (ANC)
Qantas
QF4746
06:19
Scheduled
College Station (CLL)
American Eagle
AA3431 expand_more(1)
06:20
05:58
Landed
College Station (CLL)
Alaska Airlines
AS4101
06:20
05:58
Landed
Houston (IAH)
American Airlines
AA2442 expand_more(2)
06:21
06:00
Landed
Houston (IAH)
Alaska Airlines
AS4477
06:21
06:00
Landed
Houston (IAH)
Qantas
QF4588
06:21
06:00
Landed
Shreveport (SHV)
American Eagle
AA5246
06:21
05:47
Landed
Wichita (ICT)
American Eagle
AA3337 expand_more(1)
06:22
05:55
Landed
Wichita (ICT)
Alaska Airlines
AS6679
06:22
05:55
Landed
Midland (MAF)
American Eagle
AA3475 expand_more(1)
06:22
05:59
Landed
Midland (MAF)
Alaska Airlines
AS4391
06:22
05:59
Landed
Lubbock (LBB)
American Eagle
AA3694 expand_more(1)
06:22
06:00
Landed
Lubbock (LBB)
Alaska Airlines
AS6982
06:22
06:00
Landed
Tulsa (TUL)
American Airlines
AA1695 expand_more(1)
06:22
05:57
Landed
Tulsa (TUL)
Alaska Airlines
AS6897
06:22
05:57
Landed
Sao Paulo (GRU)
American Airlines
AA962 expand_more(2)
06:53
Scheduled
Sao Paulo (GRU)
GOL Linhas Aereas
G36014
06:53
Scheduled
Sao Paulo (GRU)
Jet Linx Aviation
JL7205
06:53
Scheduled
Seattle (SEA)
American Airlines
AA668
06:58
Scheduled
Santiago (SCL)
American Airlines
AA940
07:00
Scheduled
Louisville (SDF)
American Airlines
AA2977 expand_more(2)
07:05
06:35
Landed
Louisville (SDF)
Alaska Airlines
AS4299
07:05
06:35
Landed
Louisville (SDF)
Japan Airlines
JL7483
07:05
06:35
Landed
Memphis (MEM)
American Airlines
AA1940 expand_more(3)
07:07
Delayed
Memphis (MEM)
Alaska Airlines
AS6340
07:07
Delayed
Memphis (MEM)
Japan Airlines
JL7263
07:07
Delayed
Memphis (MEM)
Qantas
QF4724
07:07
Delayed
Tyler (TYR)
American Eagle
AA3081 expand_more(1)
07:07
06:30
Landed
Tyler (TYR)
Alaska Airlines
AS6440
07:07
06:30
Landed
Nashville (BNA)
American Airlines
AA2787 expand_more(1)
07:09
06:37
Landed
Nashville (BNA)
Alaska Airlines
AS6432
07:09
06:37
Landed
Oklahoma City (OKC)
American Airlines
AA2272 expand_more(2)
07:09
Scheduled
Oklahoma City (OKC)
Alaska Airlines
AS6371
07:09
Scheduled
Oklahoma City (OKC)
Japan Airlines
JL7283
07:09
Scheduled
Greenville (GSP)
American Airlines
AA2832 expand_more(2)
07:11
06:46
Landed
Greenville (GSP)
Alaska Airlines
AS6259
07:11
06:46
Landed
Greenville (GSP)
Japan Airlines
JL7207
07:11
06:46
Landed
Columbia (COU)
American Eagle
AA3525
07:11
06:37
Landed
Manhattan (MHK)
American Eagle
AA3373
07:11
06:49
Landed
Harlingen (HRL)
American Eagle
AA3818
07:11
06:50
Landed
Baton Rouge (BTR)
American Eagle
AA5080 expand_more(1)
07:12
06:56
Landed
Baton Rouge (BTR)
Alaska Airlines
AS4369
07:12
06:56
Landed
Detroit (DTW)
American Airlines
AA1108 expand_more(1)
07:12
06:40
Landed
Detroit (DTW)
Qantas
QF4748
07:12
06:40
Landed
Columbia (CAE)
American Airlines
AA2723 expand_more(2)
07:13
06:42
Landed
Columbia (CAE)
Japan Airlines
JL7633
07:13
06:42
Landed
Columbia (CAE)
Qatar Airways
QR2752
07:13
06:42
Landed
Garden City (GCK)
American Eagle
AA3142
07:13
06:44
Landed
Jacksonville (JAX)
American Airlines
AA345 expand_more(1)
07:13
06:40
Landed
Jacksonville (JAX)
Alaska Airlines
AS4382
07:13
06:40
Landed
Texarkana (TXK)
American Eagle
AA4945
07:14
Scheduled
Jackson (JAN)
American Eagle
AA3595
07:15
06:44
Landed
Austin (AUS)
American Airlines
AA600 expand_more(1)
07:17
06:41
Landed
Austin (AUS)
Alaska Airlines
AS4106
07:17
06:41
Landed
Columbus (CMH)
American Airlines
AA2380 expand_more(1)
07:18
06:55
Landed
Columbus (CMH)
Alaska Airlines
AS6384
07:18
06:55
Landed
Chattanooga (CHA)
American Eagle
AA3512
07:18
06:54
Landed
Des Moines (DSM)
American Airlines
AA2326 expand_more(2)
07:18
06:57
Landed
Des Moines (DSM)
Alaska Airlines
AS6379
07:18
06:57
Landed
Des Moines (DSM)
Japan Airlines
JL7524
07:18
06:57
Landed
Omaha (OMA)
American Airlines
AA2540 expand_more(2)
07:18
06:35
Landed
Omaha (OMA)
Alaska Airlines
AS6404
07:18
06:35
Landed
Omaha (OMA)
Gulf Air
GF6752
07:18
06:35
Landed
Indianapolis (IND)
American Airlines
AA2782 expand_more(2)
07:18
06:53
Landed
Indianapolis (IND)
Alaska Airlines
AS6701
07:18
06:53
Landed
Indianapolis (IND)
Qantas
QF4118
07:18
06:53
Landed
Alabama (MOB)
American Eagle
AA4030
07:19
06:45
Landed
San Antonio (SAT)
American Airlines
AA2266 expand_more(2)
07:19
06:52
Landed
San Antonio (SAT)
Alaska Airlines
AS6368
07:19
06:52
Landed
San Antonio (SAT)
Japan Airlines
JL7275
07:19
06:52
Landed
Lafayette (LFT)
American Airlines
AA3297
07:20
Scheduled
Stillwater (SWO)
American Eagle
AA4926
07:20
06:47
Landed
Houston (IAH)
American Airlines
AA2551 expand_more(3)
07:21
06:53
Landed
Houston (IAH)
Alaska Airlines
AS6141
07:21
06:53
Landed
Houston (IAH)
Japan Airlines
JL7251
07:21
06:53
Landed
Houston (IAH)
Qantas
QF4600
07:21
06:53
Landed
Kilgore (GGG)
American Eagle
AA3269 expand_more(1)
07:22
Scheduled
Kilgore (GGG)
Alaska Airlines
AS6048
07:22
Scheduled
Kansas City (MCI)
American Airlines
AA1098 expand_more(1)
07:23
06:58
Landed
Kansas City (MCI)
Alaska Airlines
AS6272
07:23
06:58
Landed
Tulsa (TUL)
American Airlines
AA1090 expand_more(1)
07:23
06:53
Landed
Tulsa (TUL)
Alaska Airlines
AS6268
07:23
06:53
Landed
Tampa (TPA)
American Airlines
AA1189 expand_more(2)
07:23
Scheduled
Tampa (TPA)
Alaska Airlines
AS4229
07:23
Scheduled
Tampa (TPA)
Qantas
QF4832
07:23
Scheduled
Springfield (SGF)
American Eagle
AA3976 expand_more(1)
07:23
Scheduled
Springfield (SGF)
Alaska Airlines
AS4796
07:23
Scheduled
Wichita Falls (SPS)
American Eagle
AA5011 expand_more(1)
07:23
Scheduled
Wichita Falls (SPS)
Alaska Airlines
AS4436
07:23
Scheduled
Huntsville (HSV)
American Eagle
AA3637 expand_more(1)
07:24
06:43
Landed
Huntsville (HSV)
Japan Airlines
JL7249
07:24
06:43
Landed
Houston (HOU)
American Eagle
AA3354 expand_more(2)
07:25
Scheduled
Houston (HOU)
Alaska Airlines
AS6758
07:25
Scheduled
Houston (HOU)
Japan Airlines
JL7285
07:25
Scheduled
Lexington (LEX)
American Airlines
AA1440 expand_more(1)
07:27
Scheduled
Lexington (LEX)
Japan Airlines
JL7469
07:27
Scheduled
Knoxville (TYS)
American Airlines
AA1049 expand_more(2)
07:27
Scheduled
Knoxville (TYS)
Alaska Airlines
AS4507
07:27
Scheduled
Knoxville (TYS)
Japan Airlines
JL7645
07:27
Scheduled
Birmingham (BHM)
American Eagle
AA3401 expand_more(2)
07:28
06:52
Landed
Birmingham (BHM)
Alaska Airlines
AS6921
07:28
06:52
Landed
Birmingham (BHM)
Japan Airlines
JL7291
07:28
06:52
Landed
Washington (DCA)
American Airlines
AA2866
07:28
06:49
Landed
New Orleans (MSY)
American Airlines
AA2090 expand_more(3)
07:28
07:00
Landed
New Orleans (MSY)
Alaska Airlines
AS6172
07:28
07:00
Landed
New Orleans (MSY)
Japan Airlines
JL7265
07:28
07:00
Landed
New Orleans (MSY)
Qantas
QF4875
07:28
07:00
Landed
Orlando (MCO)
American Airlines
AA2677 expand_more(2)
07:28
06:56
Landed
Orlando (MCO)
British Airways
BA6643
07:28
06:56
Landed
Orlando (MCO)
Qantas
QF4504
07:28
06:56
Landed
Mc Allen (MFE)
American Airlines
AA2768 expand_more(1)
07:28
Scheduled
Mc Allen (MFE)
Alaska Airlines
AS4362
07:28
Scheduled
Raleigh (RDU)
American Airlines
AA2605 expand_more(2)
07:28
Delayed
Raleigh (RDU)
Alaska Airlines
AS6413
07:28
Delayed
Raleigh (RDU)
Qantas
QF4322
07:28
Delayed
Tallahassee (TLH)
American Eagle
AA3760
07:28
Scheduled
Alexandria (AEX)
American Eagle
AA3189
07:29
Scheduled
Cleveland (CLE)
American Airlines
AA525
07:29
Scheduled
Fort Smith (FSM)
American Eagle
AA3358
07:29
06:50
Landed
Corpus Christi (CRP)
American Eagle
AA3885 expand_more(1)
07:29
Scheduled
Corpus Christi (CRP)
Alaska Airlines
AS4386
07:29
Scheduled
Lake Charles (LCH)
American Eagle
AA3145
07:29
Scheduled
Monroe (MLU)
American Eagle
AA3370
07:29
06:49
Landed
Cedar Rapids (CID)
American Airlines
AA2625
07:30
Scheduled
Brownsville (BRO)
American Eagle
AA5356 expand_more(1)
07:31
Scheduled
Brownsville (BRO)
Alaska Airlines
AS6749
07:31
Scheduled
Abilene (ABI)
American Eagle
AA3647 expand_more(1)
07:32
Scheduled
Abilene (ABI)
Alaska Airlines
AS4761
07:32
Scheduled
Atlanta (ATL)
American Airlines
AA2770 expand_more(2)
07:32
Scheduled
Atlanta (ATL)
Alaska Airlines
AS6427
07:32
Scheduled
Atlanta (ATL)
Qantas
QF3174
07:32
Scheduled
Beaumont (BPT)
American Eagle
AA3264
07:34
Cancelled
Laredo (LRD)
American Eagle
AA3372 expand_more(2)
07:34
Scheduled
Laredo (LRD)
Alaska Airlines
AS6680
07:34
Scheduled
Laredo (LRD)
Gulf Air
GF4199
07:34
Scheduled
Charlotte (CLT)
American Airlines
AA430 expand_more(2)
07:35
Scheduled
Charlotte (CLT)
Alaska Airlines
AS6524
07:35
Scheduled
Charlotte (CLT)
Qantas
QF4562
07:35
Scheduled
Miami (MIA)
American Airlines
AA1226 expand_more(1)
07:36
Scheduled
Miami (MIA)
Alaska Airlines
AS6283
07:36
Scheduled
Fort Lauderdale (FLL)
American Airlines
AA638 expand_more(1)
07:37
07:00
Landed
Fort Lauderdale (FLL)
Alaska Airlines
AS4519
07:37
07:00
Landed
Kentucky (CVG)
American Airlines
AA1970 expand_more(2)
07:37
Scheduled
Kentucky (CVG)
Alaska Airlines
AS6414
07:37
Scheduled
Kentucky (CVG)
Qantas
QF4731
07:37
Scheduled
Greensboro (GSO)
American Airlines
AA2846 expand_more(3)
07:37
Scheduled
Greensboro (GSO)
Alaska Airlines
AS4581
07:37
Scheduled
Greensboro (GSO)
Japan Airlines
JL7445
07:37
Scheduled
Greensboro (GSO)
Qatar Airways
QR2716
07:37
Scheduled
Fort Wayne (FWA)
American Eagle
AA3424
07:37
Scheduled
Philadelphia (PHL)
American Airlines
AA2340 expand_more(2)
07:37
Scheduled
Philadelphia (PHL)
Aer Lingus
EI7275
07:37
Scheduled
Philadelphia (PHL)
Qantas
QF3331
07:37
Scheduled
Minneapolis (MSP)
American Airlines
AA2954 expand_more(2)
07:37
06:57
Landed
Minneapolis (MSP)
Alaska Airlines
AS6376
07:37
06:57
Landed
Minneapolis (MSP)
Qantas
QF4700
07:37
06:57
Landed
Pittsburgh (PIT)
American Airlines
AA2719 expand_more(2)
07:37
Scheduled
Pittsburgh (PIT)
Alaska Airlines
AS6309
07:37
Scheduled
Pittsburgh (PIT)
Qantas
QF3241
07:37
Scheduled
Fayetteville (XNA)
American Eagle
AA3527 expand_more(1)
07:37
Scheduled
Fayetteville (XNA)
Alaska Airlines
AS6865
07:37
Scheduled
Gulfport (GPT)
American Eagle
AA5227 expand_more(1)
07:40
Scheduled
Gulfport (GPT)
Alaska Airlines
AS4596
07:40
Scheduled
El Paso (ELP)
American Airlines
AA612 expand_more(2)
07:50
Scheduled
El Paso (ELP)
British Airways
BA4373
07:50
Scheduled
El Paso (ELP)
Japan Airlines
JL7241
07:50
Scheduled
Albuquerque (ABQ)
American Eagle
AA3011 expand_more(2)
07:57
Scheduled
Albuquerque (ABQ)
British Airways
BA1656
07:57
Scheduled
Albuquerque (ABQ)
Japan Airlines
JL7277
07:57
Scheduled
Denver (DEN)
American Airlines
AA2612 expand_more(1)
08:03
Scheduled
Denver (DEN)
British Airways
BA6560
08:03
Scheduled
Amarillo (AMA)
American Eagle
AA3309
08:05
Scheduled
Chicago (MDW)
Frontier
F91371 expand_more(1)
08:13
Scheduled
Chicago (MDW)
Volaris
Y42853
08:13
Scheduled
Austin (AUS)
American Airlines
AA1595 expand_more(1)
08:17
Scheduled
Austin (AUS)
Japan Airlines
JL7235
08:17
Scheduled
El Dorado (ELD)
Southern Airways Express
9X422
08:20
Scheduled
Springfield (SGF)
American Eagle
AA3624
08:24
Scheduled
Atlanta (ATL)
Delta Air Lines
DL839 expand_more(3)
08:25
Scheduled
Atlanta (ATL)
KLM
KL6696
08:25
Scheduled
Atlanta (ATL)
LATAM Airlines
LA6322
08:25
Scheduled
Atlanta (ATL)
WestJet
WS7177
08:25
Scheduled
Hot Springs (HOT)
Southern Airways Express
9X436
08:25
Scheduled
Madison (MSN)
American Airlines
AA1538
08:28
Scheduled
Kentucky (CVG)
Frontier
F91711 expand_more(1)
08:33
Scheduled
Kentucky (CVG)
Volaris
Y42309
08:33
Scheduled
Houston (IAH)
United Airlines
UA2139 expand_more(1)
08:33
Scheduled
Houston (IAH)
Air New Zealand
NZ6520
08:33
Scheduled
Tokyo (HND)
Japan Airlines
JL12 expand_more(2)
08:40
Scheduled
Tokyo (HND)
American Airlines
AA8478
08:40
Scheduled
Tokyo (HND)
Malaysia Airlines
MH9138
08:40
Scheduled
Guadalajara (GDL)
American Airlines
AA1034 expand_more(3)
08:42
Scheduled
Guadalajara (GDL)
British Airways
BA4409
08:42
Scheduled
Guadalajara (GDL)
Japan Airlines
JL7213
08:42
Scheduled
Guadalajara (GDL)
Qatar Airways
QR7872
08:42
Scheduled
New York (LGA)
American Airlines
AA1540 expand_more(1)
08:42
Scheduled
New York (LGA)
JetBlue Airways
B64192
08:42
Scheduled
Bismarck (BIS)
American Eagle
AA3384
08:44
Scheduled
New York (LGA)
Delta Air Lines
DL680
08:44
Scheduled
Queretaro (QRO)
American Airlines
AA883 expand_more(1)
08:44
Scheduled
Queretaro (QRO)
Japan Airlines
JL7227
08:44
Scheduled
León (BJX)
American Airlines
AA2263 expand_more(3)
08:45
Scheduled
León (BJX)
British Airways
BA1685
08:45
Scheduled
León (BJX)
Japan Airlines
JL7223
08:45
Scheduled
León (BJX)
Qatar Airways
QR9328
08:45
Scheduled
Chihuahua (CUU)
American Eagle
AA3296 expand_more(2)
08:45
Scheduled
Chihuahua (CUU)
British Airways
BA1846
08:45
Scheduled
Chihuahua (CUU)
Japan Airlines
JL7689
08:45
Scheduled
Harrison (HRO)
Southern Airways Express
9X404
08:45
Scheduled
Aguascalientes (AGU)
American Eagle
AA4936 expand_more(1)
08:48
Scheduled
Aguascalientes (AGU)
Japan Airlines
JL7225
08:48
Scheduled
Peoria (PIA)
American Eagle
AA3486
08:48
Scheduled
Atlanta (ATL)
American Airlines
AA1567 expand_more(3)
08:49
Scheduled
Atlanta (ATL)
Alaska Airlines
AS6133
08:49
Scheduled
Atlanta (ATL)
Japan Airlines
JL7281
08:49
Scheduled
Atlanta (ATL)
Qantas
QF4704
08:49
Scheduled
Monterrey (MTY)
American Airlines
AA941 expand_more(2)
08:49
Scheduled
Monterrey (MTY)
British Airways
BA5084
08:49
Scheduled
Monterrey (MTY)
Japan Airlines
JL7215
08:49
Scheduled
Mexico City (MEX)
American Airlines
AA1066 expand_more(1)
08:54
Scheduled
Mexico City (MEX)
Japan Airlines
JL7233
08:54
Scheduled
Indianapolis (IND)
American Airlines
AA1296 expand_more(3)
08:54
Scheduled
Indianapolis (IND)
Alaska Airlines
AS4306
08:54
Scheduled
Indianapolis (IND)
Japan Airlines
JL7699
08:54
Scheduled
Indianapolis (IND)
Qantas
QF4643
08:54
Scheduled
Newark (EWR)
American Airlines
AA2728 expand_more(1)
08:56
Scheduled
Newark (EWR)
JetBlue Airways
B64349
08:56
Scheduled
Lubbock (LBB)
American Airlines
AA362 expand_more(1)
08:56
Scheduled
Lubbock (LBB)
Gulf Air
GF4335
08:56
Scheduled
Nashville (BNA)
American Airlines
AA2583 expand_more(2)
08:57
Scheduled
Nashville (BNA)
Alaska Airlines
AS6410
08:57
Scheduled
Nashville (BNA)
Japan Airlines
JL7299
08:57
Scheduled
Wichita (ICT)
American Airlines
AA1038 expand_more(2)
08:57
Scheduled
Wichita (ICT)
Alaska Airlines
AS6123
08:57
Scheduled
Wichita (ICT)
Japan Airlines
JL7295
08:57
Scheduled
Norfolk (ORF)
American Airlines
AA2274 expand_more(3)
08:57
Scheduled
Norfolk (ORF)
Alaska Airlines
AS6372
08:57
Scheduled
Norfolk (ORF)
Japan Airlines
JL7289
08:57
Scheduled
Norfolk (ORF)
Qatar Airways
QR2602
08:57
Scheduled
Kansas City (MCI)
American Airlines
AA2487 expand_more(2)
08:58
Scheduled
Kansas City (MCI)
Alaska Airlines
AS4194
08:58
Scheduled
Kansas City (MCI)
Japan Airlines
JL7465
08:58
Scheduled
Washington (IAD)
American Airlines
AA2617 expand_more(4)
08:58
Scheduled
Washington (IAD)
Alaska Airlines
AS4518
08:58
Scheduled
Washington (IAD)
Qantas
QF4578
08:58
Scheduled
Washington (IAD)
Qatar Airways
QR9003
08:58
Scheduled
Washington (IAD)
Royal Air Maroc
AT5093
08:58
Scheduled
Cleveland (CLE)
American Airlines
AA1229 expand_more(1)
08:59
Scheduled
Cleveland (CLE)
Japan Airlines
JL7464
08:59
Scheduled
Memphis (MEM)
American Airlines
AA1827 expand_more(3)
08:59
Scheduled
Memphis (MEM)
Alaska Airlines
AS6336
08:59
Scheduled
Memphis (MEM)
Japan Airlines
JL7261
08:59
Scheduled
Memphis (MEM)
Qantas
QF4780
08:59
Scheduled
Richmond (RIC)
American Airlines
AA2204 expand_more(2)
08:59
Scheduled
Richmond (RIC)
Alaska Airlines
AS6361
08:59
Scheduled
Richmond (RIC)
Qatar Airways
QR7757
08:59
Scheduled
Baltimore (BWI)
American Airlines
AA1403 expand_more(1)
09:00
Scheduled
Baltimore (BWI)
Qantas
QF4560
09:00
Scheduled
Greenville (GLH)
Contour Aviation
LF3501
09:00
Scheduled
Tulsa (TUL)
American Eagle
AA3505 expand_more(2)
09:00
Scheduled
Tulsa (TUL)
Alaska Airlines
AS6390
09:00
Scheduled
Tulsa (TUL)
Japan Airlines
JL7508
09:00
Scheduled
Savannah (SAV)
American Eagle
AA3521 expand_more(1)
09:00
Scheduled
Savannah (SAV)
Alaska Airlines
AS4547
09:00
Scheduled
Roswell (ROW)
American Eagle
AA3271
09:01
Scheduled
El Paso (ELP)
American Airlines
AA537 expand_more(2)
09:02
Scheduled
El Paso (ELP)
British Airways
BA4368
09:02
Scheduled
El Paso (ELP)
Japan Airlines
JL7239
09:02
Scheduled
Minneapolis (MSP)
American Airlines
AA1395 expand_more(3)
09:02
Scheduled
Minneapolis (MSP)
Alaska Airlines
AS6295
09:02
Scheduled
Minneapolis (MSP)
Qantas
QF4800
09:02
Scheduled
Minneapolis (MSP)
Qatar Airways
QR9513
09:02
Scheduled
Grand Rapids (GRR)
American Airlines
AA1561
09:03
Scheduled
Colorado Springs (COS)
American Airlines
AA2788
09:03
Scheduled
Houston (IAH)
American Airlines
AA1799 expand_more(2)
09:03
Scheduled
Houston (IAH)
Alaska Airlines
AS6076
09:03
Scheduled
Houston (IAH)
Japan Airlines
JL7253
09:03
Scheduled
Orlando (MCO)
American Airlines
AA2991
09:03
Scheduled
Detroit (DTW)
American Airlines
AA2491 expand_more(3)
09:04
Scheduled
Detroit (DTW)
Japan Airlines
JL7345
09:04
Scheduled
Detroit (DTW)
Qantas
QF4743
09:04
Scheduled
Detroit (DTW)
Qatar Airways
QR7724
09:04
Scheduled
Chicago (ORD)
American Airlines
AA2754 expand_more(1)
09:04
Scheduled
Chicago (ORD)
Aer Lingus
EI7331
09:04
Scheduled
Washington (DCA)
American Airlines
AA1839 expand_more(1)
09:06
Scheduled
Washington (DCA)
Japan Airlines
JL7403
09:06
Scheduled
Buffalo (BUF)
American Airlines
AA576
09:07
Scheduled
Panama City (ECP)
American Eagle
AA3328
09:07
Scheduled
Charleston (CHS)
American Airlines
AA1418 expand_more(1)
09:08
Scheduled
Charleston (CHS)
Alaska Airlines
AS6129
09:08
Scheduled
Columbus (CMH)
American Eagle
AA3524 expand_more(2)
09:08
Scheduled
Columbus (CMH)
Alaska Airlines
AS4145
09:08
Scheduled
Columbus (CMH)
Japan Airlines
JL7257
09:08
Scheduled
Grand Island (GRI)
American Eagle
AA3192
09:08
Scheduled
Pensacola (PNS)
American Airlines
AA2680 expand_more(2)
09:08
Scheduled
Pensacola (PNS)
Alaska Airlines
AS6110
09:08
Scheduled
Pensacola (PNS)
Japan Airlines
JL7355
09:08
Scheduled
Denver (DEN)
American Airlines
AA1067 expand_more(1)
09:09
Scheduled
Denver (DEN)
Japan Airlines
JL7259
09:09
Scheduled
Charlotte (CLT)
American Airlines
AA422 expand_more(2)
09:10
Scheduled
Charlotte (CLT)
Japan Airlines
JL7237
09:10
Scheduled
Charlotte (CLT)
Qantas
QF4146
09:10
Scheduled
Durango (DRO)
American Eagle
AA3170
09:11
Scheduled
West Palm Beach (PBI)
American Airlines
AA1220 expand_more(3)
09:12
Scheduled
West Palm Beach (PBI)
Alaska Airlines
AS6191
09:12
Scheduled
West Palm Beach (PBI)
Japan Airlines
JL7463
09:12
Scheduled
West Palm Beach (PBI)
Qatar Airways
QR9631
09:12
Scheduled
Huntsville (HSV)
American Airlines
AA3037 expand_more(2)
09:12
Scheduled
Huntsville (HSV)
Gulf Air
GF4161
09:12
Scheduled
Huntsville (HSV)
Japan Airlines
JL7247
09:12
Scheduled
Champaign (CMI)
American Eagle
AA4073
09:13
Scheduled
Jacksonville (JAX)
American Airlines
AA375 expand_more(2)
09:13
Scheduled
Jacksonville (JAX)
Alaska Airlines
AS6008
09:13
Scheduled
Jacksonville (JAX)
Japan Airlines
JL7255
09:13
Scheduled
New Orleans (MSY)
American Airlines
AA1768 expand_more(3)
09:13
Scheduled
New Orleans (MSY)
Alaska Airlines
AS4158
09:13
Scheduled
New Orleans (MSY)
Japan Airlines
JL7267
09:13
Scheduled
New Orleans (MSY)
Qantas
QF4336
09:13
Scheduled
Milwaukee (MKE)
American Airlines
AA2621
09:13
Scheduled
Fort Myers (RSW)
American Airlines
AA1281 expand_more(2)
09:13
Scheduled
Fort Myers (RSW)
Alaska Airlines
AS4354
09:13
Scheduled
Fort Myers (RSW)
Japan Airlines
JL7357
09:13
Scheduled
Raleigh (RDU)
American Airlines
AA2197 expand_more(3)
09:13
Scheduled
Raleigh (RDU)
Alaska Airlines
AS6119
09:13
Scheduled
Raleigh (RDU)
Japan Airlines
JL7593
09:13
Scheduled
Raleigh (RDU)
Qantas
QF4549
09:13
Scheduled
South Bend (SBN)
American Eagle
AA3289
09:13
Scheduled
Fargo (FAR)
American Eagle
AA3588
09:15
Scheduled
Fayetteville (FAY)
American Eagle
AA5117 expand_more(2)
09:16
Scheduled
Fayetteville (FAY)
British Airways
BA4394
09:16
Scheduled
Fayetteville (FAY)
Qatar Airways
QR7815
09:16
Scheduled
Birmingham (BHM)
American Eagle
AA3481 expand_more(2)
09:17
Scheduled
Birmingham (BHM)
Alaska Airlines
AS6613
09:17
Scheduled
Birmingham (BHM)
Japan Airlines
JL7287
09:17
Scheduled
Fort Lauderdale (FLL)
American Airlines
AA2558 expand_more(2)
09:17
Scheduled
Fort Lauderdale (FLL)
Alaska Airlines
AS4077
09:17
Scheduled
Fort Lauderdale (FLL)
Japan Airlines
JL7620
09:17
Scheduled
Jackson (JAN)
American Eagle
AA3034
09:17
Scheduled
Moline (MLI)
American Eagle
AA3879
09:17
Scheduled
Salt Lake City (SLC)
American Airlines
AA2195 expand_more(1)
09:17
Scheduled
Salt Lake City (SLC)
British Airways
BA5660
09:17
Scheduled
Brownsville (BRO)
American Eagle
AA3465 expand_more(3)
09:18
Scheduled
Brownsville (BRO)
Alaska Airlines
AS6419
09:18
Scheduled
Brownsville (BRO)
Gulf Air
GF4227
09:18
Scheduled
Brownsville (BRO)
Iberia
IB4943
09:18
Scheduled
Kentucky (CVG)
American Airlines
AA961
09:18
Scheduled
Sioux Falls (FSD)
American Airlines
AA2880
09:18
Scheduled
Destin (VPS)
American Airlines
AA2560
09:18
Scheduled
Valparaiso (VPS)
American Airlines
AA2560
09:18
Scheduled
Santa Fe (SAF)
American Eagle
AA3005
09:18
Scheduled
San Antonio (SAT)
American Airlines
AA2792 expand_more(2)
09:19
Scheduled
San Antonio (SAT)
Alaska Airlines
AS6434
09:19
Scheduled
San Antonio (SAT)
Jet Linx Aviation
JL7273
09:19
Scheduled
Newark (EWR)
United Airlines
UA2170
09:20
Scheduled
Fletcher (AVL)
American Eagle
AA3308 expand_more(1)
09:21
Scheduled
Fletcher (AVL)
Qatar Airways
QR2337
09:21
Scheduled
Montgomery (MGM)
American Eagle
AA3571 expand_more(1)
09:21
Scheduled
Montgomery (MGM)
Gulf Air
GF4253
09:21
Scheduled
Tucson (TUS)
American Airlines
AA2193 expand_more(2)
09:21
Scheduled
Tucson (TUS)
British Airways
BA5719
09:21
Scheduled
Tucson (TUS)
Jet Linx Aviation
JL7413
09:21
Scheduled
Albuquerque (ABQ)
American Airlines
AA2335 expand_more(2)
09:22
Scheduled
Albuquerque (ABQ)
British Airways
BA1651
09:22
Scheduled
Albuquerque (ABQ)
Jet Linx Aviation
JL7231
09:22
Scheduled
Grand Junction (GJT)
American Eagle
AA3067
09:22
Scheduled
Harrisburg (MDT)
American Airlines
AA674
09:22
Scheduled
Rapid City (RAP)
American Eagle
AA3416
09:22
Scheduled
Windsor Locks (BDL)
American Airlines
AA2729 expand_more(1)
09:23
Scheduled
Windsor Locks (BDL)
Alaska Airlines
AS6422
09:23
Scheduled
Bloomington (BMI)
American Eagle
AA3586
09:23
Scheduled
Baton Rouge (BTR)
American Eagle
AA3836 expand_more(1)
09:23
Scheduled
Baton Rouge (BTR)
Alaska Airlines
AS4757
09:23
Scheduled
Evansville (EVV)
American Eagle
AA3335 expand_more(1)
09:23
Scheduled
Evansville (EVV)
Jet Linx Aviation
JL7221
09:23
Scheduled
Dayton (DAY)
American Eagle
AA5157 expand_more(2)
09:23
Scheduled
Dayton (DAY)
Alaska Airlines
AS6511
09:23
Scheduled
Dayton (DAY)
Jet Linx Aviation
JL7655
09:23
Scheduled
Syracuse (SYR)
American Airlines
AA533
09:23
Scheduled
Philadelphia (PHL)
American Airlines
AA753 expand_more(3)
09:23
Scheduled
Philadelphia (PHL)
Aer Lingus
EI7276
09:23
Scheduled
Philadelphia (PHL)
Jet Linx Aviation
JL7407
09:23
Scheduled
Philadelphia (PHL)
Qantas
QF4556
09:23
Scheduled
Tampa (TPA)
American Airlines
AA1369 expand_more(2)
09:24
Scheduled
Tampa (TPA)
Jet Linx Aviation
JL7375
09:24
Scheduled
Tampa (TPA)
Qantas
QF4846
09:24
Scheduled
St Louis (STL)
American Airlines
AA1410 expand_more(2)
09:24
Scheduled
St Louis (STL)
Alaska Airlines
AS4137
09:24
Scheduled
St Louis (STL)
Jet Linx Aviation
JL7254
09:24
Scheduled
Blountville (TRI)
American Eagle
AA3503
09:24
Scheduled
Fayetteville (XNA)
American Eagle
AA3435
09:25
Scheduled
Toronto (YYZ)
American Airlines
AA1169 expand_more(1)
09:26
Scheduled
Toronto (YYZ)
Alaska Airlines
AS6848
09:26
Scheduled
Denver (DEN)
Frontier
F9502 expand_more(1)
09:27
Scheduled
Denver (DEN)
Volaris
Y42539
09:27
Scheduled
New York (JFK)
American Airlines
AA2234 expand_more(5)
09:27
Scheduled
New York (JFK)
British Airways
BA4672
09:27
Scheduled
New York (JFK)
Gulf Air
GF4294
09:27
Scheduled
New York (JFK)
JetBlue Airways
B64396
09:27
Scheduled
New York (JFK)
Qatar Airways
QR9173
09:27
Scheduled
New York (JFK)
Royal Air Maroc
AT5065
09:27
Scheduled
Corpus Christi (CRP)
American Eagle
AA3718
09:28
Scheduled
Miami (MIA)
American Airlines
AA1562 expand_more(2)
09:28
Scheduled
Miami (MIA)
Alaska Airlines
AS4330
09:28
Scheduled
Miami (MIA)
Jet Linx Aviation
JL7393
09:28
Scheduled
New York (LGA)
American Airlines
AA1597 expand_more(1)
09:28
Scheduled
New York (LGA)
JetBlue Airways
B64204
09:28
Scheduled
Little Rock (LIT)
American Eagle
AA3641 expand_more(2)
09:28
Scheduled
Little Rock (LIT)
Alaska Airlines
AS4068
09:28
Scheduled
Little Rock (LIT)
Jet Linx Aviation
JL7447
09:28
Scheduled
Pittsburgh (PIT)
American Airlines
AA762 expand_more(4)
09:28
Scheduled
Pittsburgh (PIT)
Alaska Airlines
AS6243
09:28
Scheduled
Pittsburgh (PIT)
Jet Linx Aviation
JL7476
09:28
Scheduled
Pittsburgh (PIT)
Qantas
QF4530
09:28
Scheduled
Pittsburgh (PIT)
Qatar Airways
QR2894
09:28
Scheduled
Portland (PWM)
American Airlines
AA1489
09:28
Scheduled
Boston (BOS)
American Airlines
AA2527 expand_more(2)
09:29
Scheduled
Boston (BOS)
Jet Linx Aviation
JL7203
09:29
Scheduled
Boston (BOS)
Qantas
QF4546
09:29
Scheduled
Detroit (DTW)
Spirit Airlines
NK985
09:29
Scheduled
Fort Lauderdale (FLL)
Spirit Airlines
NK3052
09:29
Scheduled
Corpus Christi (CRP)
American Eagle
AA9893
09:30
Scheduled
Midland (MAF)
American Eagle
AA3485 expand_more(1)
09:32
Scheduled
Midland (MAF)
Gulf Air
GF4247
09:32
Scheduled
Phoenix (PHX)
American Airlines
AA698
09:33
Scheduled
Doha (DOH)
Qatar Airways
QR731 expand_more(7)
09:35
Scheduled
Doha (DOH)
Alaska Airlines
AS5821
09:35
Scheduled
Doha (DOH)
American Airlines
AA8139
09:35
Scheduled
Doha (DOH)
JetBlue Airways
B65566
09:35
Scheduled
Doha (DOH)
Malaysia Airlines
MH9731
09:35
Scheduled
Doha (DOH)
Oman Air
WY6461
09:35
Scheduled
Doha (DOH)
RwandAir
WB1168
09:35
Scheduled
Doha (DOH)
SriLankan Airlines
UL3003
09:35
Scheduled
Springfield (SGF)
American Eagle
AA3822
09:38
Scheduled
Atlanta (ATL)
Delta Air Lines
DL924
09:39
Scheduled
Minneapolis (MSP)
Delta Air Lines
DL1515
09:39
Scheduled
Charlotte (CLT)
Spirit Airlines
NK1107
09:45
Scheduled
Chicago (ORD)
United Airlines
UA1884 expand_more(2)
09:45
Scheduled
Chicago (ORD)
Air Canada
AC4856
09:45
Scheduled
Chicago (ORD)
Avianca
AV2019
09:45
Scheduled
Austin (AUS)
American Airlines
AA1330 expand_more(1)
09:47
Scheduled
Austin (AUS)
Jet Linx Aviation
JL7279
09:47
Scheduled
Dubai (DXB)
Emirates
EK221
09:50
Scheduled
Las Vegas (LAS)
American Airlines
AA2649 expand_more(1)
09:50
Scheduled
Las Vegas (LAS)
Gulf Air
GF6750
09:50
Scheduled
Oklahoma City (OKC)
American Eagle
AA3511 expand_more(2)
09:56
Scheduled
Oklahoma City (OKC)
Alaska Airlines
AS4535
09:56
Scheduled
Oklahoma City (OKC)
Jet Linx Aviation
JL7271
09:56
Scheduled
Orlando (MCO)
American Airlines
AA599 expand_more(2)
10:00
Scheduled
Orlando (MCO)
Jet Linx Aviation
JL7297
10:00
Scheduled
Orlando (MCO)
Qantas
QF4522
10:00
Scheduled
San Salvador (SAL)
American Airlines
AA1104
10:05
Scheduled
Toronto (YYZ)
Air Canada
AC1031 expand_more(2)
10:07
Scheduled
Toronto (YYZ)
Turkish Airlines
TK8658
10:07
Scheduled
Toronto (YYZ)
United Airlines
UA8166
10:07
Scheduled
Detroit (DTW)
Delta Air Lines
DL1010 expand_more(1)
10:09
Scheduled
Detroit (DTW)
WestJet
WS7566
10:09
Scheduled
Tulsa (TUL)
American Airlines
AA34 expand_more(1)
10:12
Scheduled
Tulsa (TUL)
Alaska Airlines
AS4579
10:12
Scheduled
Washington (DCA)
American Airlines
AA487
10:14
Scheduled
Houston (IAH)
American Eagle
AA3598 expand_more(2)
10:17
Scheduled
Houston (IAH)
Alaska Airlines
AS4328
10:17
Scheduled
Houston (IAH)
Qantas
QF3252
10:17
Scheduled
Houston (HOU)
American Eagle
AA3827
10:18
Scheduled
Bakersfield (BFL)
American Airlines
AA2969
10:23
Scheduled
Denver (DEN)
American Airlines
AA821
10:23
Scheduled
Boise (BOI)
American Airlines
AA1892 expand_more(2)
10:25
Scheduled
Boise (BOI)
Alaska Airlines
AS6339
10:25
Scheduled
Boise (BOI)
Iberia
IB4646
10:25
Scheduled
Fayetteville (XNA)
American Eagle
AA3672 expand_more(1)
10:26
Scheduled
Fayetteville (XNA)
Gulf Air
GF6835
10:26
Scheduled
New York (LGA)
American Airlines
AA428 expand_more(1)
10:27
Scheduled
New York (LGA)
JetBlue Airways
B64018
10:27
Scheduled
Washington (IAD)
United Airlines
UA2314
10:28
Scheduled
Colorado Springs (COS)
American Eagle
AA3064 expand_more(1)
10:29
Scheduled
Colorado Springs (COS)
Iberia
IB4273
10:29
Scheduled
Idaho Falls (IDA)
American Eagle
AA3153
10:29
Scheduled
San Antonio (SAT)
American Airlines
AA1965 expand_more(1)
10:29
Scheduled
San Antonio (SAT)
Alaska Airlines
AS6184
10:29
Scheduled
Anchorage (ANC)
EVA Air
BR698
10:30
Scheduled
Phoenix (PHX)
American Airlines
AA1112
10:34
Scheduled
El Paso (ELP)
American Airlines
AA1107 expand_more(2)
10:35
Scheduled
El Paso (ELP)
Alaska Airlines
AS6809
10:35
Scheduled
El Paso (ELP)
British Airways
BA6590
10:35
Scheduled
Grand Canyon (FLG)
American Eagle
AA3272 expand_more(1)
10:35
Scheduled
Grand Canyon (FLG)
Qatar Airways
QR7820
10:35
Scheduled
Tucson (TUS)
American Airlines
AA1025 expand_more(1)
10:36
Scheduled
Tucson (TUS)
British Airways
BA5720
10:36
Scheduled
Austin (AUS)
American Eagle
AA3916
10:41
Scheduled
Atlanta (ATL)
Spirit Airlines
NK233
10:42
Scheduled
Baltimore (BWI)
Spirit Airlines
NK667
10:43
Scheduled
Boston (BOS)
Delta Air Lines
DL760
10:44
Scheduled
Columbus (CMH)
American Airlines
AA696 expand_more(1)
10:45
Scheduled
Columbus (CMH)
Alaska Airlines
AS6866
10:45
Scheduled
Clovis (CVN)
Key Lime Air
KG5407
10:45
Scheduled
Wichita (ICT)
American Eagle
AA3061 expand_more(1)
10:49
Scheduled
Wichita (ICT)
Alaska Airlines
AS6660
10:49
Scheduled
Santa Barbara (SBA)
American Airlines
AA589 expand_more(1)
10:50
Scheduled
Santa Barbara (SBA)
Iberia
IB4375
10:50
Scheduled
Miami (MIA)
American Airlines
AA1188 expand_more(1)
10:52
Scheduled
Miami (MIA)
Alaska Airlines
AS6421
10:52
Scheduled
Chicago (ORD)
Spirit Airlines
NK2918
10:53
Scheduled
New York (JFK)
American Airlines
AA860 expand_more(4)
10:54
Scheduled
New York (JFK)
British Airways
BA4673
10:54
Scheduled
New York (JFK)
JetBlue Airways
B64089
10:54
Scheduled
New York (JFK)
Qatar Airways
QR9175
10:54
Scheduled
New York (JFK)
Royal Air Maroc
AT5077
10:54
Scheduled
Las Vegas (LAS)
Frontier
F92134 expand_more(1)
10:55
Scheduled
Las Vegas (LAS)
Volaris
Y42123
10:55
Scheduled
Cancun (CUN)
American Airlines
AA316
10:58
Scheduled
Denver (DEN)
United Airlines
UA1254 expand_more(1)
10:58
Scheduled
Denver (DEN)
Air Canada
AC4043
10:58
Scheduled
Monterrey (MTY)
American Eagle
AA3810 expand_more(2)
10:58
Scheduled
Monterrey (MTY)
British Airways
BA2440
10:58
Scheduled
Monterrey (MTY)
Iberia
IB4964
10:58
Scheduled
Salt Lake City (SLC)
American Airlines
AA1214 expand_more(2)
10:58
Scheduled
Salt Lake City (SLC)
British Airways
BA5659
10:58
Scheduled
Salt Lake City (SLC)
Qantas
QF4316
10:58
Scheduled
Boston (BOS)
American Airlines
AA990 expand_more(1)
10:59
Scheduled
Boston (BOS)
Qantas
QF3248
10:59
Scheduled
Austin (AUS)
Delta Private Jets
DPJ497
11:00
Scheduled
Palm Springs (PSP)
American Airlines
AA2425 expand_more(1)
11:00
Scheduled
Palm Springs (PSP)
British Airways
BA5500
11:00
Scheduled
Monterey (MRY)
American Airlines
AA1835 expand_more(2)
11:02
Scheduled
Monterey (MRY)
Alaska Airlines
AS6949
11:02
Scheduled
Monterey (MRY)
Qatar Airways
QR7824
11:02
Scheduled
Orlando (MCO)
Frontier
F91247 expand_more(1)
11:03
Scheduled
Orlando (MCO)
Volaris
Y42139
11:03
Scheduled
Ontario (ONT)
American Airlines
AA1412 expand_more(1)
11:07
Scheduled
Ontario (ONT)
British Airways
BA5107
11:07
Scheduled
Ontario (ONT)
Frontier
F92734 expand_more(1)
11:07
Scheduled
Ontario (ONT)
Volaris
Y42261
11:07
Scheduled
Seattle (SEA)
American Airlines
AA993 expand_more(1)
11:08
Scheduled
Seattle (SEA)
Iberia
IB4087
11:08
Scheduled
New York (LGA)
Delta Air Lines
DL683 expand_more(1)
11:09
Scheduled
New York (LGA)
Aeromexico
AM3441
11:09
Scheduled
Albuquerque (ABQ)
American Airlines
AA1474
11:11
Scheduled
Spokane (GEG)
American Airlines
AA2369
11:12
Scheduled
Chicago (ORD)
American Airlines
AA2812
11:13
Scheduled
Philadelphia (PHL)
American Airlines
AA771
11:13
Scheduled
Reno (RNO)
American Airlines
AA1361 expand_more(3)
11:14
Scheduled
Reno (RNO)
British Airways
BA5514
11:14
Scheduled
Reno (RNO)
Iberia
IB4119
11:14
Scheduled
Reno (RNO)
Qantas
QF4688
11:14
Scheduled
Fresno (FAT)
American Airlines
AA2653
11:18
Scheduled
New York (LGA)
American Airlines
AA955 expand_more(1)
11:18
Scheduled
New York (LGA)
JetBlue Airways
B64116
11:18
Scheduled
Tampa (TPA)
American Airlines
AA504 expand_more(2)
11:19
Scheduled
Tampa (TPA)
Alaska Airlines
AS4412
11:19
Scheduled
Tampa (TPA)
Qantas
QF3022
11:19
Scheduled
Billings (BIL)
American Eagle
AA3746 expand_more(1)
11:20
Scheduled
Billings (BIL)
Alaska Airlines
AS6470
11:20
Scheduled
New York (JFK)
Delta Air Lines
DL650 expand_more(3)
11:20
Scheduled
New York (JFK)
Aeromexico
AM3729
11:20
Scheduled
New York (JFK)
LATAM Airlines
LA7916
11:20
Scheduled
New York (JFK)
Virgin Atlantic
VS3610
11:20
Scheduled
Jackson (JAN)
American Eagle
AA3376
11:21
Scheduled
Atlanta (ATL)
Delta Air Lines
DL815 expand_more(3)
11:22
Scheduled
Atlanta (ATL)
Aeromexico
AM3227
11:22
Scheduled
Atlanta (ATL)
LATAM Airlines
LA8948
11:22
Scheduled
Atlanta (ATL)
WestJet
WS7282
11:22
Scheduled
Charlotte (CLT)
American Airlines
AA1011 expand_more(3)
11:22
Scheduled
Charlotte (CLT)
Alaska Airlines
AS4123
11:22
Scheduled
Charlotte (CLT)
Gulf Air
GF4259
11:22
Scheduled
Charlotte (CLT)
Qantas
QF3197
11:22
Scheduled
Orlando (MCO)
American Airlines
AA2555 expand_more(1)
11:22
Scheduled
Orlando (MCO)
Qantas
QF4533
11:22
Scheduled
Los Angeles (LAX)
American Airlines
AA2811 expand_more(1)
11:23
Scheduled
Los Angeles (LAX)
Air Tahiti Nui
TN1276
11:23
Scheduled
Eugene (EUG)
American Airlines
AA1560 expand_more(2)
11:24
Scheduled
Eugene (EUG)
Alaska Airlines
AS4557
11:24
Scheduled
Eugene (EUG)
Qatar Airways
QR9144
11:24
Scheduled
Oklahoma City (OKC)
American Airlines
AA1902 expand_more(1)
11:25
Scheduled
Oklahoma City (OKC)
Alaska Airlines
AS4433
11:25
Scheduled
Louisville (SDF)
American Airlines
AA1040 expand_more(1)
11:25
Scheduled
Louisville (SDF)
Alaska Airlines
AS6682
11:25
Scheduled
Sacramento (SMF)
American Airlines
AA1544 expand_more(1)
11:25
Scheduled
Sacramento (SMF)
Iberia
IB4293
11:25
Scheduled
Memphis (MEM)
American Eagle
AA3807 expand_more(2)
11:26
Scheduled
Memphis (MEM)
Alaska Airlines
AS6558
11:26
Scheduled
Memphis (MEM)
Qantas
QF3242
11:26
Scheduled
Fort Smith (FSM)
American Eagle
AA3728 expand_more(1)
11:28
Scheduled
Fort Smith (FSM)
Qatar Airways
QR7850
11:28
Scheduled
Portland (PDX)
American Airlines
AA2216 expand_more(2)
11:28
Scheduled
Portland (PDX)
British Airways
BA5366
11:28
Scheduled
Portland (PDX)
Iberia
IB4565
11:28
Scheduled
Kansas City (MCI)
American Airlines
AA2569 expand_more(2)
11:28
Scheduled
Kansas City (MCI)
Alaska Airlines
AS4410
11:28
Scheduled
Kansas City (MCI)
Iberia
IB4105
11:28
Scheduled
Tyler (TYR)
American Eagle
AA3146 expand_more(2)
11:28
Scheduled
Tyler (TYR)
Alaska Airlines
AS4007
11:28
Scheduled
Tyler (TYR)
Qatar Airways
QR2442
11:28
Scheduled
Waco (ACT)
American Eagle
AA3038 expand_more(3)
11:29
Scheduled
Waco (ACT)
Alaska Airlines
AS4775
11:29
Scheduled
Waco (ACT)
Gulf Air
GF4214
11:29
Scheduled
Waco (ACT)
Qatar Airways
QR9642
11:29
Scheduled
Houston (HOU)
American Eagle
AA3811 expand_more(1)
11:29
Scheduled
Houston (HOU)
Alaska Airlines
AS6457
11:29
Scheduled
Calgary (YYC)
American Airlines
AA2521 expand_more(3)
11:29
Scheduled
Calgary (YYC)
British Airways
BA5752
11:29
Scheduled
Calgary (YYC)
Iberia
IB4097
11:29
Scheduled
Calgary (YYC)
Qatar Airways
QR9112
11:29
Scheduled
Houston (IAH)
Mesa Airlines
UA6090 expand_more(2)
11:30
Scheduled
Houston (IAH)
Air New Zealand
NZ6511
11:30
Scheduled
Houston (IAH)
All Nippon Airways
NH6540
11:30
Scheduled
New Orleans (MSY)
American Airlines
AA2157 expand_more(3)
11:32
Scheduled
New Orleans (MSY)
Alaska Airlines
AS6889
11:32
Scheduled
New Orleans (MSY)
Iberia
IB4180
11:32
Scheduled
New Orleans (MSY)
Qantas
QF4328
11:32
Scheduled
San Luis Obispo (SBP)
American Airlines
AA1161
11:32
Scheduled
Abilene (ABI)
American Eagle
AA4039 expand_more(1)
11:33
Scheduled
Abilene (ABI)
Alaska Airlines
AS4260
11:33
Scheduled
Amarillo (AMA)
American Eagle
AA3471 expand_more(1)
11:33
Scheduled
Amarillo (AMA)
Alaska Airlines
AS4727
11:33
Scheduled
Las Vegas (LAS)
American Airlines
AA654
11:33
Scheduled
Midland (MAF)
American Eagle
AA3874 expand_more(1)
11:33
Scheduled
Midland (MAF)
Alaska Airlines
AS6670
11:33
Scheduled
San Diego (SAN)
American Airlines
AA1055 expand_more(2)
11:33
Scheduled
San Diego (SAN)
Alaska Airlines
AS6260
11:33
Scheduled
San Diego (SAN)
British Airways
BA5543
11:33
Scheduled
San Angelo (SJT)
American Eagle
AA3670 expand_more(2)
11:33
Scheduled
San Angelo (SJT)
Alaska Airlines
AS6476
11:33
Scheduled
San Angelo (SJT)
Qatar Airways
QR2605
11:33
Scheduled
Shreveport (SHV)
American Eagle
AA5242
11:33
Scheduled
Newark (EWR)
American Airlines
AA1603 expand_more(1)
11:34
Scheduled
Newark (EWR)
JetBlue Airways
B64326
11:34
Scheduled
Wichita (ICT)
American Eagle
AA3464 expand_more(2)
11:34
Scheduled
Wichita (ICT)
Alaska Airlines
AS6916
11:34
Scheduled
Wichita (ICT)
Iberia
IB4166
11:34
Scheduled
Phoenix (PHX)
American Airlines
AA356 expand_more(1)
11:34
Scheduled
Phoenix (PHX)
Gulf Air
GF6726
11:34
Scheduled
Fayetteville (XNA)
American Airlines
AA512 expand_more(1)
11:34
Scheduled
Fayetteville (XNA)
Alaska Airlines
AS6598
11:34
Scheduled
Tucson (TUS)
American Eagle
AA3463 expand_more(2)
11:35
Scheduled
Tucson (TUS)
British Airways
BA5725
11:35
Scheduled
Tucson (TUS)
Iberia
IB4096
11:35
Scheduled
Fort Hood (GRK)
American Eagle
AA3148 expand_more(2)
11:36
Scheduled
Fort Hood (GRK)
Alaska Airlines
AS4778
11:36
Scheduled
Fort Hood (GRK)
Gulf Air
GF4306
11:36
Scheduled
Lawton (LAW)
American Eagle
AA3018 expand_more(1)
11:37
Scheduled
Lawton (LAW)
Qatar Airways
QR2665
11:37
Scheduled
Tulsa (TUL)
American Airlines
AA452 expand_more(1)
11:37
Scheduled
Tulsa (TUL)
Alaska Airlines
AS4195
11:37
Scheduled
Texarkana (TXK)
American Eagle
AA4918
11:37
Scheduled
College Station (CLL)
American Airlines
AA4925 expand_more(2)
11:38
Scheduled
College Station (CLL)
Alaska Airlines
AS4374
11:38
Scheduled
College Station (CLL)
Qatar Airways
QR2606
11:38
Scheduled
Des Moines (DSM)
American Airlines
AA2762 expand_more(3)
11:38
Scheduled
Des Moines (DSM)
Alaska Airlines
AS6397
11:38
Scheduled
Des Moines (DSM)
Finnair
AY5671
11:38
Scheduled
Des Moines (DSM)
Iberia
IB4655
11:38
Scheduled
Corpus Christi (CRP)
American Eagle
AA3774 expand_more(2)
11:38
Scheduled
Corpus Christi (CRP)
Alaska Airlines
AS6621
11:38
Scheduled
Corpus Christi (CRP)
Iberia
IB4482
11:38
Scheduled
St Louis (STL)
American Airlines
AA2897 expand_more(4)
11:38
Scheduled
St Louis (STL)
Alaska Airlines
AS6020
11:38
Scheduled
St Louis (STL)
British Airways
BA6983
11:38
Scheduled
St Louis (STL)
Gulf Air
GF4373
11:38
Scheduled
St Louis (STL)
Iberia
IB4342
11:38
Scheduled
Washington (DCA)
American Airlines
AA796
11:39
Scheduled
San Francisco (SFO)
American Airlines
AA1198 expand_more(1)
11:39
Scheduled
San Francisco (SFO)
Qantas
QF3073
11:39
Scheduled
Missoula (MSO)
American Airlines
AA9780
11:40
Scheduled
Huntsville (HSV)
American Eagle
AA3841
11:42
Scheduled
Boston (BOS)
JetBlue Airways
B6215 expand_more(2)
11:43
Scheduled
Boston (BOS)
El Al
LY8518
11:43
Scheduled
Boston (BOS)
Qatar Airways
QR3919
11:43
Scheduled
Austin (AUS)
American Airlines
AA845 expand_more(1)
11:47
Scheduled
Austin (AUS)
Alaska Airlines
AS4169
11:47
Scheduled
Salt Lake City (SLC)
Delta Air Lines
DL1329 expand_more(1)
11:52
Scheduled
Salt Lake City (SLC)
Aeromexico
AM4098
11:52
Scheduled
Chicago (ORD)
United Airlines
UA2082 expand_more(1)
11:53
Scheduled
Chicago (ORD)
Air Canada
AC5186
11:53
Scheduled
Nashville (BNA)
American Airlines
AA1103 expand_more(1)
11:55
Scheduled
Nashville (BNA)
Alaska Airlines
AS6255
11:55
Scheduled
Omaha (OMA)
American Airlines
AA1811 expand_more(4)
11:55
Scheduled
Omaha (OMA)
Alaska Airlines
AS6320
11:55
Scheduled
Omaha (OMA)
British Airways
BA5098
11:55
Scheduled
Omaha (OMA)
Finnair
AY5695
11:55
Scheduled
Omaha (OMA)
Iberia
IB4359
11:55
Scheduled
Springfield (SGF)
American Eagle
AA3633 expand_more(1)
11:55
Scheduled
Springfield (SGF)
Alaska Airlines
AS4012
11:55
Scheduled
Birmingham (BHM)
American Eagle
AA5623 expand_more(1)
11:58
Scheduled
Birmingham (BHM)
Alaska Airlines
AS4439
11:58
Scheduled
Seattle (SEA)
Alaska Airlines
AS586 expand_more(2)
11:58
Scheduled
Seattle (SEA)
Air Tahiti Nui
TN2389
11:58
Scheduled
Seattle (SEA)
Finnair
AY2597
11:58
Scheduled
Lubbock (LBB)
American Eagle
AA3852 expand_more(1)
12:01
Scheduled
Lubbock (LBB)
Alaska Airlines
AS6606
12:01
Scheduled
Houston (IAH)
American Airlines
AA2420 expand_more(2)
12:02
Scheduled
Houston (IAH)
Alaska Airlines
AS4269
12:02
Scheduled
Houston (IAH)
Qantas
QF4500
12:02
Scheduled
San Antonio (SAT)
American Airlines
AA2759 expand_more(2)
12:02
Scheduled
San Antonio (SAT)
Alaska Airlines
AS6425
12:02
Scheduled
San Antonio (SAT)
Gulf Air
GF6605
12:02
Scheduled
Santa Ana (SNA)
American Airlines
AA1382 expand_more(1)
12:03
Scheduled
Santa Ana (SNA)
Alaska Airlines
AS4449
12:03
Scheduled
Little Rock (LIT)
American Eagle
AA4843 expand_more(1)
12:05
Scheduled
Little Rock (LIT)
Alaska Airlines
AS6718
12:05
Scheduled
Denver (DEN)
American Airlines
AA1320
12:07
Scheduled
Laredo (LRD)
American Eagle
AA3983 expand_more(2)
12:07
Scheduled
Laredo (LRD)
Alaska Airlines
AS4036
12:07
Scheduled
Laredo (LRD)
Iberia
IB4320
12:07
Scheduled
Alexandria (AEX)
American Eagle
AA3287
12:13
Scheduled
Jackson (JAN)
American Eagle
AA3614
12:13
Scheduled
Richmond (YVR)
American Airlines
AA1148
12:13
Scheduled
Boston (BOS)
American Airlines
AA2600
12:15
Scheduled
Baton Rouge (BTR)
American Eagle
AA3083
12:15
Scheduled
Los Angeles (LAX)
American Airlines
AA2746
12:16
Scheduled
Seattle (SEA)
American Airlines
AA2748
12:17
Scheduled
New York (LGA)
American Airlines
AA1626
12:19
Scheduled
Burbank (BUR)
American Airlines
AA2823
12:22
Scheduled
Monroe (MLU)
American Eagle
AA3980
12:22
Scheduled
San Diego (SAN)
American Airlines
AA2535
12:25
Scheduled
Brownsville (BRO)
American Eagle
AA5167
12:26
Scheduled
Phoenix (PHX)
Frontier
F92702
12:27
Scheduled
Newark (EWR)
American Airlines
AA621
12:29
Scheduled
Carlsbad (CNM)
Boutique Air
4B554
12:30
Scheduled
Sacramento (SMF)
American Airlines
AA1233
12:30
Scheduled
Oakland (OAK)
Spirit Airlines
NK276
12:31
Scheduled
Kansas City (MCI)
American Airlines
AA1734
12:31
Scheduled
New Orleans (MSY)
American Airlines
AA2603
12:33
Scheduled
Harlingen (HRL)
American Eagle
AA3411
12:33
Scheduled
Mc Allen (MFE)
American Airlines
AA1590
12:34
Scheduled
Louisville (SDF)
American Eagle
AA3889
12:34
Scheduled
Fort Hood (GRK)
American Eagle
AA3866
12:35
Scheduled
Monterrey (MTY)
American Eagle
AA3515
12:37
Scheduled
San José (SJO)
American Airlines
AA1080
12:38
Scheduled
Memphis (MEM)
American Airlines
AA2559
12:42
Scheduled
Richmond (RIC)
Mountain Aviation
FTH99
12:44
Scheduled
Atlanta (ATL)
American Airlines
AA2778
12:45
Scheduled
Lafayette (LFT)
American Eagle
AA3198 expand_more(2)
12:45
Scheduled
Lafayette (LFT)
British Airways
BA4823
12:45
Scheduled
Lafayette (LFT)
Gulf Air
GF4228
12:45
Scheduled
Denver (DEN)
United Airlines
UA1350 expand_more(2)
12:48
Scheduled
Denver (DEN)
Air Canada
AC5626
12:48
Scheduled
Denver (DEN)
Avianca
AV2020
12:48
Scheduled
Las Vegas (LAS)
American Airlines
AA1908
12:50
Scheduled
Santa Ana (SNA)
American Airlines
AA2626
12:54
Scheduled
London (LHR)
American Airlines
AA51 expand_more(7)
12:56
Scheduled
London (LHR)
British Airways
BA1504
12:56
Scheduled
London (LHR)
El Al
LY8029
12:56
Scheduled
London (LHR)
Finnair
AY5753
12:56
Scheduled
London (LHR)
Gulf Air
GF6651
12:56
Scheduled
London (LHR)
Iberia
IB4193
12:56
Scheduled
London (LHR)
Malaysia Airlines
MH9395
12:56
Scheduled
London (LHR)
Qatar Airways
QR2225
12:56
Scheduled
Salt Lake City (SLC)
American Airlines
AA2066 expand_more(3)
12:59
Scheduled
Salt Lake City (SLC)
British Airways
BA5661
12:59
Scheduled
Salt Lake City (SLC)
Iberia
IB4214
12:59
Scheduled
Salt Lake City (SLC)
Qantas
QF4678
12:59
Scheduled
Indianapolis (IND)
American Airlines
AA1506 expand_more(2)
13:01
Scheduled
Indianapolis (IND)
Qantas
QF4761
13:01
Scheduled
Indianapolis (IND)
Qatar Airways
QR9062
13:01
Scheduled
Denver (DEN)
Frontier
F9506 expand_more(1)
13:04
Scheduled
Denver (DEN)
Volaris
Y42391
13:04
Scheduled
El Paso (ELP)
American Eagle
AA3690 expand_more(3)
13:06
Scheduled
El Paso (ELP)
British Airways
BA4375
13:06
Scheduled
El Paso (ELP)
Gulf Air
GF6510
13:06
Scheduled
El Paso (ELP)
Iberia
IB4532
13:06
Scheduled
Kentucky (CVG)
American Airlines
AA1568 expand_more(5)
13:08
Scheduled
Kentucky (CVG)
Alaska Airlines
AS6237
13:08
Scheduled
Kentucky (CVG)
Finnair
AY4239
13:08
Scheduled
Kentucky (CVG)
Gulf Air
GF6747
13:08
Scheduled
Kentucky (CVG)
Qantas
QF4425
13:08
Scheduled
Kentucky (CVG)
Qatar Airways
QR2248
13:08
Scheduled
Portland (PDX)
American Airlines
AA2577
13:08
Scheduled
Los Angeles (LAX)
American Airlines
AA1639
13:14
Scheduled
Washington (DCA)
American Airlines
AA1612
13:15
Scheduled
Ontario (ONT)
American Airlines
AA1534
13:15
Scheduled
Austin (AUS)
American Airlines
AA1065
13:17
Scheduled
Chicago (ORD)
American Airlines
AA1106
13:17
Scheduled
Santa Fe (SAF)
American Eagle
AA3277
13:17
Scheduled
Miami (MIA)
American Airlines
AA2567
13:19
Scheduled
Phoenix (PHX)
American Airlines
AA1887
13:19
Scheduled
Fresno (FAT)
American Airlines
AA841
13:21
Scheduled
Minneapolis (MSP)
American Airlines
AA2593
13:21
Scheduled
Colorado Springs (COS)
American Airlines
AA1552
13:23
Scheduled
San Francisco (SFO)
American Airlines
AA2904
13:24
Scheduled
Houston (IAH)
United Express
UA6144
13:27
Scheduled
San Diego (SAN)
American Airlines
AA1764
13:29
Scheduled
Albuquerque (ABQ)
American Airlines
AA928
13:30
Scheduled
Jacksonville (JAX)
American Airlines
AA1061
13:30
Scheduled
Columbus (CMH)
American Airlines
AA1279
13:31
Scheduled
Gulfport (GPT)
American Eagle
AA5542
13:33
Scheduled
Panama City (ECP)
American Eagle
AA3022
13:34
Scheduled
Tampa (TPA)
American Airlines
AA1271
13:34
Scheduled
Rapid City (RAP)
American Eagle
AA3884
13:35
Scheduled
Houston (IAH)
American Eagle
AA3599
13:36
Scheduled
Grand Junction (GJT)
American Eagle
AA3786
13:38
Scheduled
Denver (DEN)
American Airlines
AA2357
13:39
Scheduled
Los Angeles (LAX)
Delta Air Lines
DL521
13:39
Scheduled
San Jose (SJC)
American Airlines
AA910
13:39
Scheduled
Pensacola (PNS)
American Airlines
AA2367
13:39
Scheduled
Shreveport (SHV)
American Eagle
AA5186
13:39
Scheduled
Paris (CDG)
Air France
AF146
13:40
Scheduled
Las Vegas (LAS)
Spirit Airlines
NK972
13:40
Scheduled
Philadelphia (PHL)
American Airlines
AA2562
13:40
Scheduled
Salt Lake City (SLC)
Delta Air Lines
DL1202
13:40
Scheduled
Pittsburgh (PIT)
American Airlines
AA1583
13:41
Scheduled
Fayetteville (XNA)
American Eagle
AA3802
13:41
Scheduled
Charlotte (CLT)
American Airlines
AA701
13:42
Scheduled
Lake Charles (LCH)
American Eagle
AA4966
13:43
Scheduled
Amarillo (AMA)
American Eagle
AA3478
13:44
Scheduled
Chattanooga (CHA)
American Eagle
AA4139
13:44
Scheduled
Durango (DRO)
American Eagle
AA4934
13:44
Scheduled
Las Vegas (LAS)
American Airlines
AA1890
13:44
Scheduled
Little Rock (LIT)
American Eagle
AA3649
13:44
Scheduled
Midland (MAF)
American Eagle
AA3891
13:44
Scheduled
Springfield (SGF)
American Eagle
AA4108
13:44
Scheduled
Nashville (BNA)
American Airlines
AA1118
13:46
Scheduled
Detroit (DTW)
American Airlines
AA2374
13:46
Scheduled
Cleveland (CLE)
American Airlines
AA2331
13:48
Scheduled
Orlando (MCO)
American Airlines
AA1709
13:48
Scheduled
Wichita (ICT)
American Eagle
AA3848
13:49
Scheduled
Madison (MSN)
American Airlines
AA2139
13:49
Scheduled
San Antonio (SAT)
American Airlines
AA1957
13:50
Scheduled
Corpus Christi (CRP)
American Eagle
AA3546
13:51
Scheduled
Houston (HOU)
American Eagle
AA3833
13:51
Scheduled
Aspen (ASE)
American Airlines
AA3014
13:53
Scheduled
Manhattan (MHK)
American Eagle
AA3439
13:54
Scheduled
Tulsa (TUL)
American Eagle
AA3663
13:54
Scheduled
Fort Wayne (FWA)
American Eagle
AA3347
13:55
Scheduled
Tucson (TUS)
American Airlines
AA2720
13:55
Scheduled
Santa Ana (SNA)
American Airlines
AA2469
13:57
Scheduled
Raleigh (RDU)
American Airlines
AA2683
13:57
Scheduled
Birmingham (BHM)
American Eagle
AA3357
13:58
Scheduled
Jackson (JAN)
American Eagle
AA3789
13:58
Scheduled
New York (LGA)
American Airlines
AA1913
14:00
Scheduled
Oklahoma City (OKC)
American Airlines
AA2497
14:01
Scheduled
London (LHR)
American Airlines
AA21
14:03
Scheduled
Mexico City (MEX)
Aeromexico
AM2682
14:03
Scheduled
Austin (AUS)
American Airlines
AA2124
14:04
Scheduled
San Salvador (SAL)
Avianca
AV440
14:05
Scheduled
Memphis (MEM)
American Eagle
AA3881
14:06
Scheduled
New York (LGA)
Delta Air Lines
DL2733
14:08
Scheduled
Fort Lauderdale (FLL)
American Airlines
AA1429
14:11
Scheduled
Atlanta (ATL)
Delta Air Lines
DL921
14:15
Scheduled
Atlanta (ATL)
American Airlines
AA982
14:16
Scheduled
Detroit (DTW)
Delta Air Lines
DL1041
14:17
Scheduled
Newark (EWR)
United Airlines
UA1594
14:18
Scheduled
Cancun (CUN)
American Airlines
AA1601
14:19
Scheduled
Los Angeles (LAX)
American Airlines
AA2205
14:19
Scheduled
Lubbock (LBB)
American Eagle
AA3855
14:20
Scheduled
Harlingen (HRL)
American Eagle
AA4982
14:20
Scheduled
San Francisco (SFO)
American Airlines
AA2807
14:24
Scheduled
Chicago (ORD)
American Airlines
AA1109
14:28
Scheduled
Alabama (MOB)
American Eagle
AA3677
14:30
Scheduled
Frankfurt (FRA)
American Airlines
AA71
14:33
Scheduled
Rome (FCO)
American Airlines
AA239
14:35
Delayed
Paris (CDG)
American Airlines
AA49
14:42
Scheduled
Phoenix (PHX)
American Airlines
AA569
14:42
Scheduled
Roswell (ROW)
American Eagle
AA3100
14:42
Scheduled
El Paso (ELP)
American Airlines
AA2385
14:45
Scheduled
Harrison (HRO)
Southern Airways Express
9X408
14:45
Scheduled
Charleston (CHS)
American Eagle
AA3013
14:47
Scheduled
Columbia (COU)
American Eagle
AA3686
14:48
Scheduled
El Dorado (ELD)
Southern Airways Express
9X426
14:50
Scheduled
Hot Springs (HOT)
Southern Airways Express
9X434
14:50
Scheduled
Albuquerque (ABQ)
American Airlines
AA1670
14:51
Scheduled
Santa Ana (SNA)
American Airlines
AA1884
14:51
Scheduled
Guadalajara (GDL)
American Airlines
AA1174
14:52
Scheduled
Evansville (EVV)
American Eagle
AA3506
14:52
Scheduled
Cancun (CUN)
Spirit Airlines
NK281
14:54
Scheduled
Washington (IAD)
United Airlines
UA1318
14:54
Scheduled
Charlotte (CLT)
American Airlines
AA840
14:55
Scheduled
Las Vegas (LAS)
American Airlines
AA1584
14:56
Scheduled
Mc Allen (MFE)
American Airlines
AA1464
14:59
Scheduled
Atlanta (ATL)
China Airlines
CI5254
15:00
Scheduled
St Louis (STL)
American Airlines
AA1362
15:00
Scheduled
Milwaukee (MKE)
American Airlines
AA2581
15:01
Scheduled
Vantaa (HEL)
Finnair
AY19
15:05
Scheduled
Seattle (SEA)
Alaska Airlines
AS414
15:05
Scheduled
Puerto Vallarta (PVR)
American Airlines
AA1288
15:08
Scheduled
Destination
Airline
Flight no.
Scheduled
Est./Actual
Status
Sioux Falls (FSD)
American Airlines
AA9840
02:30
02:28
En-Route
Chicago (ORD)
American Airlines
AA423 expand_more(2)
05:00
05:13
En-Route
Chicago (ORD)
Aer Lingus
EI7131
05:00
05:13
En-Route
Chicago (ORD)
British Airways
BA5253
05:00
05:13
En-Route
Miami (MIA)
American Airlines
AA1042 expand_more(1)
05:00
05:17
En-Route
Miami (MIA)
Alaska Airlines
AS6039
05:00
05:17
En-Route
Charlotte (CLT)
American Airlines
AA2943 expand_more(1)
05:00
05:56
En-Route
Charlotte (CLT)
Alaska Airlines
AS6089
05:00
05:56
En-Route
Fort Lauderdale (FLL)
Spirit Airlines
NK1967
05:15
05:22
En-Route
Las Vegas (LAS)
Spirit Airlines
NK268
05:25
Scheduled
Houston (IAH)
United Airlines
UA2134 expand_more(2)
05:30
05:36
En-Route
Houston (IAH)
Air New Zealand
NZ6533
05:30
05:36
En-Route
Houston (IAH)
Copa Airlines
CM1330
05:30
05:36
En-Route
Philadelphia (PHL)
American Airlines
AA856 expand_more(1)
05:30
05:37
En-Route
Philadelphia (PHL)
Aer Lingus
EI7245
05:30
05:37
En-Route
Atlanta (ATL)
Delta Air Lines
DL401 expand_more(3)
05:32
05:33
En-Route
Atlanta (ATL)
Aeromexico
AM5132
05:32
05:33
En-Route
Atlanta (ATL)
Korean Air
KE6880
05:32
05:33
En-Route
Atlanta (ATL)
WestJet
WS8055
05:32
05:33
En-Route
Washington (DCA)
American Airlines
AA1612
05:32
05:41
En-Route
Detroit (DTW)
Delta Air Lines
DL2183 expand_more(3)
05:39
05:46
En-Route
Detroit (DTW)
Korean Air
KE3408
05:39
05:46
En-Route
Detroit (DTW)
Virgin Atlantic
VS1638
05:39
05:46
En-Route
Detroit (DTW)
WestJet
WS8347
05:39
05:46
En-Route
Chicago (ORD)
Spirit Airlines
NK2704
05:45
05:56
En-Route
Boston (BOS)
Spirit Airlines
NK1165
05:45
05:55
En-Route
Los Angeles (LAX)
Delta Air Lines
DL984 expand_more(8)
06:00
Scheduled
Los Angeles (LAX)
Aeromexico
AM4703
06:00
Scheduled
Los Angeles (LAX)
Air France
AF2739
06:00
Scheduled
Los Angeles (LAX)
China Airlines
CI9004
06:00
Scheduled
Los Angeles (LAX)
KLM
KL7331
06:00
Scheduled
Los Angeles (LAX)
Korean Air
KE7406
06:00
Scheduled
Los Angeles (LAX)
LATAM Airlines
LA6534
06:00
Scheduled
Los Angeles (LAX)
Virgin Atlantic
VS2075
06:00
Scheduled
Los Angeles (LAX)
WestJet
WS6951
06:00
Scheduled
Seattle (SEA)
Alaska Airlines
AS365 expand_more(3)
06:00
Scheduled
Seattle (SEA)
Air Tahiti Nui
TN2352
06:00
Scheduled
Seattle (SEA)
Korean Air
KE6120
06:00
Scheduled
Seattle (SEA)
Singapore Airlines
SQ1221
06:00
Scheduled
New York (LGA)
Delta Air Lines
DL336 expand_more(1)
06:00
Scheduled
New York (LGA)
WestJet
WS6404
06:00
Scheduled
Denver (DEN)
Mesa Airlines
UA6279 expand_more(1)
06:00
Scheduled
Denver (DEN)
Air Canada
AC5307
06:00
Scheduled
New York (EWR)
United Airlines
UA698
06:00
Scheduled
New York (LGA)
American Airlines
AA2030 expand_more(1)
06:01
Scheduled
New York (LGA)
JetBlue Airways
B64214
06:01
Scheduled
Los Angeles (LAX)
American Airlines
AA1980 expand_more(2)
06:15
Scheduled
Los Angeles (LAX)
Air Tahiti Nui
TN1273
06:15
Scheduled
Los Angeles (LAX)
Malaysia Airlines
MH9453
06:15
Scheduled
Austin (AUS)
American Eagle
AA3552 expand_more(1)
06:16
Scheduled
Austin (AUS)
Alaska Airlines
AS4584
06:16
Scheduled
Chicago (ORD)
American Airlines
AA679 expand_more(1)
06:20
Scheduled
Chicago (ORD)
Aer Lingus
EI7169
06:20
Scheduled
Phoenix (PHX)
Frontier
F92709 expand_more(1)
06:30
Scheduled
Phoenix (PHX)
Volaris
Y42683
06:30
Scheduled
Seattle (SEA)
Asiana Airlines
OZ244
06:30
Scheduled
Orlando (MCO)
Spirit Airlines
NK1022
06:40
Scheduled
Atlanta (ATL)
Delta Air Lines
DL523 expand_more(2)
06:45
Scheduled
Atlanta (ATL)
Aeromexico
AM3437
06:45
Scheduled
Atlanta (ATL)
Korean Air
KE3709
06:45
Scheduled
Minneapolis (MSP)
Delta Air Lines
DL1276 expand_more(3)
07:00
Scheduled
Minneapolis (MSP)
Korean Air
KE3872
07:00
Scheduled
Minneapolis (MSP)
Virgin Atlantic
VS1504
07:00
Scheduled
Minneapolis (MSP)
WestJet
WS6958
07:00
Scheduled
New York (EWR)
United Airlines
UA1003 expand_more(1)
07:00
Scheduled
New York (EWR)
SAS
SK6769
07:00
Scheduled
Houston (IAH)
American Eagle
AA3598 expand_more(1)
07:00
Scheduled
Houston (IAH)
Alaska Airlines
AS4328
07:00
Scheduled
Chicago (ORD)
United Airlines
UA380 expand_more(3)
07:00
Scheduled
Chicago (ORD)
Air Canada
AC4867
07:00
Scheduled
Chicago (ORD)
All Nippon Airways
NH7709
07:00
Scheduled
Chicago (ORD)
Turkish Airlines
TK8632
07:00
Scheduled
New York (JFK)
Delta Air Lines
DL367 expand_more(6)
07:00
Scheduled
New York (JFK)
Aeromexico
AM3561
07:00
Scheduled
New York (JFK)
ITA Airways
AZ3412
07:00
Scheduled
New York (JFK)
KLM
KL5875
07:00
Scheduled
New York (JFK)
Korean Air
KE3174
07:00
Scheduled
New York (JFK)
LATAM Airlines
LA6315
07:00
Scheduled
New York (JFK)
Virgin Atlantic
VS4620
07:00
Scheduled
Tulsa (TUL)
American Airlines
AA34 expand_more(1)
07:00
Scheduled
Tulsa (TUL)
Alaska Airlines
AS4579
07:00
Scheduled
St. Louis (STL)
American Airlines
AA2897 expand_more(1)
07:01
Scheduled
St. Louis (STL)
Alaska Airlines
AS6020
07:01
Scheduled
Houston (HOU)
American Eagle
AA3827 expand_more(1)
07:01
Scheduled
Houston (HOU)
Alaska Airlines
AS4489
07:01
Scheduled
Washington (DCA)
American Airlines
AA429
07:02
Scheduled
Des Moines (DSM)
American Airlines
AA2762
07:03
Scheduled
Nashville (BNA)
American Airlines
AA1103 expand_more(1)
07:03
Scheduled
Nashville (BNA)
Alaska Airlines
AS6255
07:03
Scheduled
Boston (BOS)
American Airlines
AA2297
07:03
Scheduled
Huntsville (HSV)
American Eagle
AA3841
07:03
Scheduled
Fort Lauderdale (FLL)
American Airlines
AA1429 expand_more(1)
07:03
Scheduled
Fort Lauderdale (FLL)
Alaska Airlines
AS4352
07:03
Scheduled
Denver (DEN)
American Airlines
AA1320
07:04
Scheduled
Oklahoma City (OKC)
American Eagle
AA3511 expand_more(1)
07:04
Scheduled
Oklahoma City (OKC)
Alaska Airlines
AS4535
07:04
Scheduled
New York (LGA)
American Airlines
AA1435 expand_more(1)
07:04
Scheduled
New York (LGA)
JetBlue Airways
B64165
07:04
Scheduled
Las Vegas (LAS)
American Airlines
AA1890
07:06
Scheduled
Atlanta (ATL)
American Airlines
AA2778 expand_more(2)
07:06
Scheduled
Atlanta (ATL)
Alaska Airlines
AS4126
07:06
Scheduled
Atlanta (ATL)
Qantas
QF4647
07:06
Scheduled
Miami (MIA)
American Airlines
AA1702 expand_more(2)
07:06
Scheduled
Miami (MIA)
Alaska Airlines
AS6634
07:06
Scheduled
Miami (MIA)
Iberia
IB4547
07:06
Scheduled
Phoenix (PHX)
American Airlines
AA367
07:06
Scheduled
Bentonville (XNA)
American Eagle
AA3796 expand_more(1)
07:08
Scheduled
Bentonville (XNA)
Alaska Airlines
AS6733
07:08
Scheduled
Raleigh-Durham (RDU)
American Airlines
AA2683 expand_more(1)
07:08
Scheduled
Raleigh-Durham (RDU)
Alaska Airlines
AS6351
07:08
Scheduled
Charlotte (CLT)
American Airlines
AA553 expand_more(1)
07:08
Scheduled
Charlotte (CLT)
Alaska Airlines
AS4280
07:08
Scheduled
San Antonio (SAT)
American Airlines
AA1965
07:08
Scheduled
Pittsburgh (PIT)
American Airlines
AA1583
07:09
Scheduled
Houston (IAH)
United Airlines
UA2670 expand_more(2)
07:10
Scheduled
Houston (IAH)
Air New Zealand
NZ6526
07:10
Scheduled
Houston (IAH)
Copa Airlines
CM1326
07:10
Scheduled
Kansas City (MCI)
American Airlines
AA2569 expand_more(1)
07:11
Scheduled
Kansas City (MCI)
Alaska Airlines
AS4410
07:11
Scheduled
Wichita (ICT)
American Eagle
AA3061 expand_more(1)
07:13
Scheduled
Wichita (ICT)
Alaska Airlines
AS6660
07:13
Scheduled
Omaha (OMA)
American Airlines
AA1811
07:14
Scheduled
Orlando (MCO)
American Airlines
AA1709
07:15
Scheduled
Detroit (DTW)
American Airlines
AA2374 expand_more(1)
07:15
Scheduled
Detroit (DTW)
Qantas
QF4747
07:15
Scheduled
Los Angeles (LAX)
American Airlines
AA524 expand_more(2)
07:15
Scheduled
Los Angeles (LAX)
Air Tahiti Nui
TN1248
07:15
Scheduled
Los Angeles (LAX)
Malaysia Airlines
MH9486
07:15
Scheduled
Cleveland (CLE)
American Airlines
AA2331
07:16
Scheduled
Seattle (SEA)
American Airlines
AA2371
07:17
Scheduled
Birmingham (BHM)
American Eagle
AA5623 expand_more(1)
07:18
Scheduled
Birmingham (BHM)
Alaska Airlines
AS4439
07:18
Scheduled
Columbus (CMH)
American Airlines
AA1279
07:18
Scheduled
Tampa (TPA)
American Airlines
AA1271 expand_more(2)
07:19
Scheduled
Tampa (TPA)
Alaska Airlines
AS4713
07:19
Scheduled
Tampa (TPA)
Qantas
QF3165
07:19
Scheduled
Louisville (SDF)
American Eagle
AA3902
07:20
Scheduled
Cincinnati (CVG)
American Airlines
AA1568 expand_more(1)
07:21
Scheduled
Cincinnati (CVG)
Qantas
QF4425
07:21
Scheduled
Jacksonville (JAX)
American Airlines
AA1061 expand_more(1)
07:23
Scheduled
Jacksonville (JAX)
Alaska Airlines
AS4685
07:23
Scheduled
Cancun (CUN)
American Airlines
AA1343
07:24
Scheduled
Memphis (MEM)
American Eagle
AA3807 expand_more(2)
07:24
Scheduled
Memphis (MEM)
Alaska Airlines
AS6558
07:24
Scheduled
Memphis (MEM)
Qantas
QF3242
07:24
Scheduled
New Orleans (MSY)
American Airlines
AA2157 expand_more(2)
07:24
Scheduled
New Orleans (MSY)
Alaska Airlines
AS6889
07:24
Scheduled
New Orleans (MSY)
Qantas
QF4328
07:24
Scheduled
Philadelphia (PHL)
American Airlines
AA453 expand_more(1)
07:25
Scheduled
Philadelphia (PHL)
Aer Lingus
EI7244
07:25
Scheduled
Austin (AUS)
American Airlines
AA1206
07:25
Scheduled
Indianapolis (IND)
American Airlines
AA1506 expand_more(2)
07:27
Scheduled
Indianapolis (IND)
Alaska Airlines
AS6685
07:27
Scheduled
Indianapolis (IND)
Qantas
QF4761
07:27
Scheduled
Minneapolis (MSP)
American Airlines
AA2593 expand_more(1)
07:28
Scheduled
Minneapolis (MSP)
Qantas
QF4649
07:28
Scheduled
Jackson (JAN)
American Eagle
AA3611
07:29
Scheduled
Santa Ana (SNA)
American Airlines
AA1884 expand_more(1)
07:30
Scheduled
Santa Ana (SNA)
Alaska Airlines
AS6004
07:30
Scheduled
San Diego (SAN)
American Airlines
AA1947 expand_more(1)
07:30
Scheduled
San Diego (SAN)
Alaska Airlines
AS6285
07:30
Scheduled
New York (EWR)
American Airlines
AA1700 expand_more(1)
07:34
Scheduled
New York (EWR)
JetBlue Airways
B64265
07:34
Scheduled
San Francisco (SFO)
American Airlines
AA2279 expand_more(1)
07:35
Scheduled
San Francisco (SFO)
Qantas
QF4463
07:35
Scheduled
Washington (IAD)
United Airlines
UA2639
07:37
Scheduled
Fort Lauderdale (FLL)
Spirit Airlines
NK1405
07:45
Scheduled
San Francisco (SFO)
United Airlines
UA2371 expand_more(4)
08:00
Scheduled
San Francisco (SFO)
Air Canada
AC3640
08:00
Scheduled
San Francisco (SFO)
Air New Zealand
NZ9090
08:00
Scheduled
San Francisco (SFO)
All Nippon Airways
NH7373
08:00
Scheduled
San Francisco (SFO)
Virgin Australia
VA8275
08:00
Scheduled
Salt Lake City (SLC)
Delta Air Lines
DL724 expand_more(3)
08:00
Scheduled
Salt Lake City (SLC)
Air France
AF2482
08:00
Scheduled
Salt Lake City (SLC)
KLM
KL7557
08:00
Scheduled
Salt Lake City (SLC)
KLM
KL7051
08:00
Scheduled
San Francisco (SFO)
Frontier
F92711
08:00
Scheduled
Houston (IAH)
Mesa Airlines
UA6269 expand_more(3)
08:00
Scheduled
Houston (IAH)
Air New Zealand
NZ6525
08:00
Scheduled
Houston (IAH)
All Nippon Airways
NH6541
08:00
Scheduled
Houston (IAH)
Copa Airlines
CM1325
08:00
Scheduled
South Bend (SBN)
SkyWest Airlines
OO9982
08:00
Cancelled
South Bend (SBN)
American Eagle
OO9913
08:00
Scheduled
Cancun (CUN)
Spirit Airlines
NK280
08:15
Scheduled
Fresno (FAT)
American Airlines
AA1729
08:18
Scheduled
Tucson (TUS)
American Airlines
AA2720
08:18
Scheduled
Wichita (ICT)
American Eagle
AA3464
08:18
Scheduled
Las Vegas (LAS)
American Airlines
AA1584 expand_more(1)
08:18
Scheduled
Las Vegas (LAS)
GOL Linhas Aereas
G36239
08:18
Scheduled
Charleston (CHS)
American Eagle
AA3013 expand_more(1)
08:19
Scheduled
Charleston (CHS)
Alaska Airlines
AS6385
08:19
Scheduled
Rapid City (RAP)
American Eagle
AA3898
08:19
Scheduled
Reno (RNO)
American Airlines
AA2722 expand_more(1)
08:19
Scheduled
Reno (RNO)
Qantas
QF3343
08:19
Scheduled
Brownsville (BRO)
American Eagle
AA5167 expand_more(1)
08:19
Scheduled
Brownsville (BRO)
Alaska Airlines
AS4220
08:19
Scheduled
New York (LGA)
American Airlines
AA2847 expand_more(2)
08:19
Scheduled
New York (LGA)
GOL Linhas Aereas
G36124
08:19
Scheduled
New York (LGA)
JetBlue Airways
B64037
08:19
Scheduled
Bentonville (XNA)
American Airlines
AA512
08:19
Scheduled
Kansas City (MCI)
American Airlines
AA1734
08:19
Scheduled
Tulsa (TUL)
American Airlines
AA452
08:19
Scheduled
McAllen (MFE)
American Airlines
AA2128 expand_more(1)
08:19
Scheduled
McAllen (MFE)
Alaska Airlines
AS6552
08:19
Scheduled
Springfield (SGF)
American Eagle
AA3633 expand_more(1)
08:19
Scheduled
Springfield (SGF)
Alaska Airlines
AS4012
08:19
Scheduled
Corpus Christi (CRP)
American Eagle
AA3774 expand_more(1)
08:19
Scheduled
Corpus Christi (CRP)
Alaska Airlines
AS6621
08:19
Scheduled
Amarillo (AMA)
American Eagle
AA3471 expand_more(1)
08:19
Scheduled
Amarillo (AMA)
Alaska Airlines
AS4727
08:19
Scheduled
Houston (HOU)
American Eagle
AA3811
08:19
Scheduled
Jackson (JAN)
American Eagle
AA3614
08:19
Scheduled
Bozeman (BZN)
American Airlines
AA2359 expand_more(1)
08:20
Scheduled
Bozeman (BZN)
Alaska Airlines
AS6331
08:20
Scheduled
New Orleans (MSY)
American Airlines
AA2603 expand_more(1)
08:20
Scheduled
New Orleans (MSY)
GOL Linhas Aereas
G36274
08:20
Scheduled
Houston (IAH)
American Airlines
AA2420 expand_more(1)
08:20
Scheduled
Houston (IAH)
GOL Linhas Aereas
G36086
08:20
Scheduled
Austin (AUS)
American Airlines
AA1323 expand_more(1)
08:20
Scheduled
Austin (AUS)
GOL Linhas Aereas
G36187
08:20
Scheduled
Fort Wayne (FWA)
American Eagle
AA3347
08:20
Scheduled
Madison (MSN)
American Airlines
AA2139
08:21
Scheduled
Baton Rouge (BTR)
American Eagle
AA3083 expand_more(1)
08:23
Scheduled
Baton Rouge (BTR)
Alaska Airlines
AS4641
08:23
Scheduled
Midland (MAF)
American Eagle
AA3874 expand_more(1)
08:23
Scheduled
Midland (MAF)
Alaska Airlines
AS6670
08:23
Scheduled
Monterrey (MTY)
American Eagle
AA3515 expand_more(1)
08:23
Scheduled
Monterrey (MTY)
British Airways
BA2417
08:23
Scheduled
Cancun (CUN)
American Airlines
AA1190
08:24
Scheduled
Guadalajara (GDL)
American Airlines
AA1174 expand_more(1)
08:24
Scheduled
Guadalajara (GDL)
British Airways
BA1967
08:24
Scheduled
San Jose del Cabo (SJD)
American Airlines
AA1304 expand_more(1)
08:25
Scheduled
San Jose del Cabo (SJD)
British Airways
BA4319
08:25
Scheduled
Memphis (MEM)
American Airlines
AA2559
08:25
Scheduled
Shreveport (SHV)
American Eagle
AA5535
08:25
Scheduled
Toronto (YYZ)
American Eagle
AA3993 expand_more(1)
08:26
Scheduled
Toronto (YYZ)
GOL Linhas Aereas
G36492
08:26
Scheduled
Denver (DEN)
American Airlines
AA2357 expand_more(1)
08:27
Scheduled
Denver (DEN)
GOL Linhas Aereas
G36182
08:27
Scheduled
Washington (DCA)
American Airlines
AA1177 expand_more(1)
08:27
Scheduled
Washington (DCA)
GOL Linhas Aereas
G36214
08:27
Scheduled
Fort Smith (FSM)
American Eagle
AA3403
08:27
Scheduled
Mexico City (MEX)
American Airlines
AA389 expand_more(1)
08:29
Scheduled
Mexico City (MEX)
British Airways
BA2393
08:29
Scheduled
Panama City (ECP)
American Eagle
AA3022
08:29
Scheduled
Laredo (LRD)
American Eagle
AA3983 expand_more(1)
08:29
Scheduled
Laredo (LRD)
Alaska Airlines
AS4036
08:29
Scheduled
Little Rock (LIT)
American Eagle
AA4843 expand_more(1)
08:29
Scheduled
Little Rock (LIT)
Alaska Airlines
AS6718
08:29
Scheduled
Grand Junction (GJT)
American Eagle
AA3786
08:29
Scheduled
Oklahoma City (OKC)
American Airlines
AA1902
08:29
Scheduled
Seattle (SEA)
American Airlines
AA2472 expand_more(1)
08:30
Scheduled
Seattle (SEA)
GOL Linhas Aereas
G36171
08:30
Scheduled
Seattle (SEA)
Alaska Airlines
AS543 expand_more(2)
08:30
Scheduled
Seattle (SEA)
Air Tahiti Nui
TN2356
08:30
Scheduled
Seattle (SEA)
Qatar Airways
QR2041
08:30
Scheduled
Philadelphia (PHL)
American Airlines
AA402 expand_more(2)
08:30
Scheduled
Philadelphia (PHL)
Aer Lingus
EI7246
08:30
Scheduled
Philadelphia (PHL)
GOL Linhas Aereas
G36043
08:30
Scheduled
Puerto Vallarta (PVR)
American Airlines
AA1288 expand_more(1)
08:31
Scheduled
Puerto Vallarta (PVR)
British Airways
BA2462
08:31
Scheduled
San Antonio (SAT)
American Airlines
AA2759
08:31
Scheduled
Charlotte (CLT)
American Airlines
AA514 expand_more(1)
08:32
Scheduled
Charlotte (CLT)
GOL Linhas Aereas
G36033
08:32
Scheduled
College Station (CLL)
American Airlines
AA4925 expand_more(1)
08:33
Scheduled
College Station (CLL)
Alaska Airlines
AS4374
08:33
Scheduled
Texarkana (TXK)
American Eagle
AA4918
08:33
Scheduled
Ontario (ONT)
American Airlines
AA1820
08:33
Scheduled
Calgary (YYC)
American Airlines
AA2517 expand_more(1)
08:33
Scheduled
Calgary (YYC)
British Airways
BA4356
08:33
Scheduled
Aspen (ASE)
American Airlines
AA3014 expand_more(1)
08:34
Scheduled
Aspen (ASE)
Qantas
QF3182
08:34
Scheduled
Chicago (ORD)
American Airlines
AA328 expand_more(3)
08:34
Scheduled
Chicago (ORD)
Aer Lingus
EI7123
08:34
Scheduled
Chicago (ORD)
GOL Linhas Aereas
G36074
08:34
Scheduled
Chicago (ORD)
Jet Linx Aviation
JL7343
08:34
Scheduled
Atlanta (ATL)
American Airlines
AA982 expand_more(1)
08:34
Scheduled
Atlanta (ATL)
GOL Linhas Aereas
G36225
08:34
Scheduled
Phoenix (PHX)
American Airlines
AA520 expand_more(1)
08:35
Scheduled
Phoenix (PHX)
GOL Linhas Aereas
G36113
08:35
Scheduled
Killeen (GRK)
American Eagle
AA3148 expand_more(1)
08:35
Scheduled
Killeen (GRK)
Alaska Airlines
AS4778
08:35
Scheduled
San Angelo (SJT)
American Eagle
AA3670 expand_more(1)
08:35
Scheduled
San Angelo (SJT)
Alaska Airlines
AS6476
08:35
Scheduled
Harlingen (HRL)
American Eagle
AA3411
08:36
Scheduled
Durango (DRO)
American Eagle
AA4934
08:36
Scheduled
Colorado Springs (COS)
American Airlines
AA1552
08:37
Scheduled
Chattanooga (CHA)
American Eagle
AA4139
08:37
Scheduled
San Juan (SJU)
American Airlines
AA2434 expand_more(1)
08:38
Scheduled
San Juan (SJU)
Alaska Airlines
AS4512
08:38
Scheduled
New York (JFK)
American Airlines
AA1789 expand_more(5)
08:38
Scheduled
New York (JFK)
British Airways
BA4952
08:38
Scheduled
New York (JFK)
Iberia
IB4009
08:38
Scheduled
New York (JFK)
JetBlue Airways
B64167
08:38
Scheduled
New York (JFK)
Qatar Airways
QR2584
08:38
Scheduled
New York (JFK)
Royal Air Maroc
AT5078
08:38
Scheduled
Sacramento (SMF)
American Airlines
AA2081
08:39
Scheduled
Albuquerque (ABQ)
American Airlines
AA928
08:40
Scheduled
Santa Fe (SAF)
American Eagle
AA3277
08:40
Scheduled
Baltimore (BWI)
Frontier
F91386 expand_more(1)
08:40
Scheduled
Baltimore (BWI)
Volaris
Y42260
08:40
Scheduled
Tyler (TYR)
American Eagle
AA3146 expand_more(1)
08:40
Scheduled
Tyler (TYR)
Alaska Airlines
AS4007
08:40
Scheduled
Nashville (BNA)
American Airlines
AA1118
08:41
Scheduled
Lubbock (LBB)
American Eagle
AA3852 expand_more(1)
08:42
Scheduled
Lubbock (LBB)
Alaska Airlines
AS6606
08:42
Scheduled
San Francisco (SFO)
American Airlines
AA2379 expand_more(4)
08:42
Scheduled
San Francisco (SFO)
GOL Linhas Aereas
G36290
08:42
Scheduled
San Francisco (SFO)
Jet Linx Aviation
JL7543
08:42
Scheduled
San Francisco (SFO)
Qantas
QF4616
08:42
Scheduled
San Francisco (SFO)
Qatar Airways
QR2436
08:42
Scheduled
El Paso (ELP)
American Eagle
AA3690 expand_more(1)
08:45
Scheduled
El Paso (ELP)
Alaska Airlines
AS4396
08:45
Scheduled
Lawton (LAW)
American Eagle
AA3018
08:45
Scheduled
Los Angeles (LAX)
American Airlines
AA1953 expand_more(3)
08:45
Scheduled
Los Angeles (LAX)
Air Tahiti Nui
TN1184
08:45
Scheduled
Los Angeles (LAX)
GOL Linhas Aereas
G36382
08:45
Scheduled
Los Angeles (LAX)
Qantas
QF3181
08:45
Scheduled
Alexandria (AEX)
American Eagle
AA3287
08:45
Scheduled
Lafayette (LFT)
American Eagle
AA3198
08:49
Scheduled
Monroe (MLU)
American Eagle
AA3980
08:51
Scheduled
Abilene (ABI)
American Eagle
AA4039 expand_more(1)
08:51
Scheduled
Abilene (ABI)
Alaska Airlines
AS4260
08:51
Scheduled
Pensacola (PNS)
American Airlines
AA2367 expand_more(1)
08:52
Scheduled
Pensacola (PNS)
Alaska Airlines
AS4464
08:52
Scheduled
Waco (ACT)
American Eagle
AA3038 expand_more(1)
08:53
Scheduled
Waco (ACT)
Alaska Airlines
AS4775
08:53
Scheduled
Portland (PDX)
American Airlines
AA2655 expand_more(1)
08:53
Scheduled
Portland (PDX)
GOL Linhas Aereas
G36216
08:53
Scheduled
Miami (MIA)
American Airlines
AA319 expand_more(2)
08:55
Scheduled
Miami (MIA)
GOL Linhas Aereas
G36053
08:55
Scheduled
Miami (MIA)
Iberia
IB4426
08:55
Scheduled
Colorado Springs (COS)
American Eagle
AA9894
09:00
Scheduled
Montreal (YUL)
Air Canada
AC1070 expand_more(1)
09:00
Scheduled
Montreal (YUL)
United Airlines
UA8376
09:00
Scheduled
Chicago (ORD)
United Airlines
UA280 expand_more(3)
09:00
Scheduled
Chicago (ORD)
Air Canada
AC4855
09:00
Scheduled
Chicago (ORD)
Austrian Airlines
OS7720
09:00
Scheduled
Chicago (ORD)
Swiss
LX3275
09:00
Scheduled
Santa Ana (SNA)
American Airlines
AA2663
09:01
Scheduled
San Diego (SAN)
American Airlines
AA313 expand_more(3)
09:04
Scheduled
San Diego (SAN)
Alaska Airlines
AS6182
09:04
Scheduled
San Diego (SAN)
GOL Linhas Aereas
G36169
09:04
Scheduled
San Diego (SAN)
Jet Linx Aviation
JL7694
09:04
Scheduled
Boston (BOS)
American Airlines
AA1285 expand_more(2)
09:04
Scheduled
Boston (BOS)
GOL Linhas Aereas
G36141
09:04
Scheduled
Boston (BOS)
Qantas
QF4317
09:04
Scheduled
Las Vegas (LAS)
Frontier
F92135 expand_more(1)
09:08
Scheduled
Las Vegas (LAS)
Volaris
Y42124
09:08
Scheduled
Salt Lake City (SLC)
American Airlines
AA2845 expand_more(2)
09:09
Scheduled
Salt Lake City (SLC)
GOL Linhas Aereas
G36334
09:09
Scheduled
Salt Lake City (SLC)
Qantas
QF4671
09:09
Scheduled
Gulfport (GPT)
American Eagle
AA5542 expand_more(1)
09:10
Scheduled
Gulfport (GPT)
Alaska Airlines
AS6480
09:10
Scheduled
Jackson (JAC)
American Airlines
AA1825
09:12
Scheduled
Orlando (MCO)
American Airlines
AA1672 expand_more(2)
09:13
Scheduled
Orlando (MCO)
GOL Linhas Aereas
G36206
09:13
Scheduled
Orlando (MCO)
Qantas
QF4577
09:13
Scheduled
Fort Lauderdale (FLL)
American Airlines
AA1390
09:14
Scheduled
Milwaukee (MKE)
American Airlines
AA2581
09:15
Scheduled
Harrison (HRO)
Southern Airways Express
9X405
09:25
Scheduled
Austin (AUS)
American Eagle
AA3489 expand_more(1)
09:25
Scheduled
Austin (AUS)
GOL Linhas Aereas
G36063
09:25
Scheduled
Cincinnati (CVG)
Frontier
F91710 expand_more(1)
09:28
Scheduled
Cincinnati (CVG)
Volaris
Y42370
09:28
Scheduled
Denver (DEN)
United Airlines
UA1182 expand_more(1)
09:29
Scheduled
Denver (DEN)
Air Canada
AC5629
09:29
Scheduled
Vancouver (YVR)
American Airlines
AA1415 expand_more(1)
09:29
Scheduled
Vancouver (YVR)
Alaska Airlines
AS6299
09:29
Scheduled
Birmingham (BHM)
American Eagle
AA3357
09:30
Scheduled
Los Angeles (LAX)
American Airlines
AA898 expand_more(4)
09:30
Scheduled
Los Angeles (LAX)
Air Tahiti Nui
TN1191
09:30
Scheduled
Los Angeles (LAX)
GOL Linhas Aereas
G36390
09:30
Scheduled
Los Angeles (LAX)
Qantas
QF4320
09:30
Scheduled
Los Angeles (LAX)
Qatar Airways
QR9382
09:30
Scheduled
San Diego (SAN)
Frontier
F92707
09:30
Scheduled
Atlanta (ATL)
Delta Air Lines
DL839 expand_more(2)
09:35
Scheduled
Atlanta (ATL)
KLM
KL6696
09:35
Scheduled
Atlanta (ATL)
WestJet
WS6640
09:35
Scheduled
Hot Springs (HOT)
Southern Airways Express
9X419
09:35
Scheduled
El Dorado (ELD)
Southern Airways Express
9X423
09:45
Scheduled
Chicago (ORD)
American Airlines
AA1805 expand_more(3)
09:45
Scheduled
Chicago (ORD)
Aer Lingus
EI7138
09:45
Scheduled
Chicago (ORD)
British Airways
BA2438
09:45
Scheduled
Chicago (ORD)
GOL Linhas Aereas
G36277
09:45
Scheduled
Shanghai (PVG)
American Airlines
AA127 expand_more(1)
09:55
Scheduled
Shanghai (PVG)
China Southern Airlines
CZ1620
09:55
Scheduled
Houston (IAH)
United Airlines
UA1469 expand_more(2)
09:55
Scheduled
Houston (IAH)
Air New Zealand
NZ6531
09:55
Scheduled
Houston (IAH)
Copa Airlines
CM1328
09:55
Scheduled
New York (LGA)
Delta Air Lines
DL680 expand_more(1)
09:55
Scheduled
New York (LGA)
WestJet
WS6762
09:55
Scheduled
Seoul (ICN)
American Airlines
AA281 expand_more(2)
10:00
Scheduled
Seoul (ICN)
Korean Air
KE5032
10:00
Scheduled
Seoul (ICN)
Malaysia Airlines
MH9427
10:00
Scheduled
Killeen (GRK)
American Eagle
AA3866
10:04
Scheduled
Lake Charles (LCH)
American Eagle
AA4966
10:08
Scheduled
Missoula (MSO)
American Airlines
AA851 expand_more(1)
10:09
Scheduled
Missoula (MSO)
Alaska Airlines
AS6770
10:09
Scheduled
Minneapolis (MSP)
American Airlines
AA2147
10:09
Scheduled
Chihuahua (CUU)
American Eagle
AA3285 expand_more(1)
10:09
Scheduled
Chihuahua (CUU)
British Airways
BA6618
10:09
Scheduled
Atlanta (ATL)
American Airlines
AA980 expand_more(1)
10:09
Scheduled
Atlanta (ATL)
GOL Linhas Aereas
G36372
10:09
Scheduled
South Bend (SBN)
American Eagle
AA3044
10:09
Scheduled
Santa Barbara (SBA)
American Airlines
AA1981
10:09
Scheduled
Manhattan (MHK)
American Eagle
AA3439
10:09
Scheduled
Memphis (MEM)
American Eagle
AA3892
10:09
Scheduled
Grand Rapids (GRR)
American Airlines
AA1139
10:09
Scheduled
Albuquerque (ABQ)
American Airlines
AA1670
10:09
Scheduled
San Luis Obispo (SBP)
American Airlines
AA1754
10:09
Scheduled
Jackson (JAN)
American Eagle
AA3789
10:09
Scheduled
Santa Rosa (STS)
American Eagle
AA3977 expand_more(1)
10:09
Scheduled
Santa Rosa (STS)
Alaska Airlines
AS6619
10:09
Scheduled
Spokane (GEG)
American Airlines
AA627 expand_more(1)
10:09
Scheduled
Spokane (GEG)
Alaska Airlines
AS6233
10:09
Scheduled
Evansville (EVV)
American Eagle
AA3506
10:09
Scheduled
Houston (IAH)
American Eagle
AA3599
10:09
Scheduled
Springfield (SGF)
American Eagle
AA4108
10:09
Scheduled
Bakersfield (BFL)
American Airlines
AA1005
10:10
Scheduled
San Jose del Cabo (SJD)
American Airlines
AA2667 expand_more(1)
10:10
Scheduled
San Jose del Cabo (SJD)
British Airways
BA4321
10:10
Scheduled
Cleveland (CLE)
American Airlines
AA1260
10:10
Scheduled
Destin Fort Walton Beach (VPS)
American Airlines
AA388
10:10
Scheduled
Harlingen (HRL)
American Eagle
AA4982
10:11
Scheduled
El Paso (ELP)
American Airlines
AA2385 expand_more(1)
10:11
Scheduled
El Paso (ELP)
Jet Linx Aviation
JL7240
10:11
Scheduled
Boise (BOI)
American Airlines
AA2944 expand_more(1)
10:11
Scheduled
Boise (BOI)
Alaska Airlines
AS6306
10:11
Scheduled
Little Rock (LIT)
American Eagle
AA3649 expand_more(1)
10:12
Scheduled
Little Rock (LIT)
Jet Linx Aviation
JL7446
10:12
Scheduled
Washington (DCA)
American Airlines
AA2817 expand_more(2)
10:12
Scheduled
Washington (DCA)
GOL Linhas Aereas
G36093
10:12
Scheduled
Washington (DCA)
Jet Linx Aviation
JL7410
10:12
Scheduled
Mobile (MOB)
American Eagle
AA3677
10:12
Scheduled
Lexington (LEX)
American Airlines
AA2932 expand_more(1)
10:13
Scheduled
Lexington (LEX)
Jet Linx Aviation
JL7468
10:13
Scheduled
Bentonville (XNA)
American Eagle
AA3802
10:13
Scheduled
Denver (DEN)
American Airlines
AA2579 expand_more(2)
10:14
Scheduled
Denver (DEN)
GOL Linhas Aereas
G36151
10:14
Scheduled
Denver (DEN)
Jet Linx Aviation
JL7344
10:14
Scheduled
New York (LGA)
American Airlines
AA2916 expand_more(2)
10:14
Scheduled
New York (LGA)
GOL Linhas Aereas
G36259
10:14
Scheduled
New York (LGA)
JetBlue Airways
B64098
10:14
Scheduled
Cancun (CUN)
American Airlines
AA2874 expand_more(1)
10:15
Scheduled
Cancun (CUN)
Jet Linx Aviation
JL7278
10:15
Scheduled
Cozumel (CZM)
American Airlines
AA2576
10:15
Scheduled
Montego Bay (MBJ)
American Airlines
AA2500
10:15
Scheduled
Oaxaca (OAX)
American Airlines
AA2187
10:15
Scheduled
Montrose (MTJ)
American Airlines
AA665
10:15
Scheduled
Aspen (ASE)
American Eagle
AA3291 expand_more(1)
10:16
Scheduled
Aspen (ASE)
Qantas
QF3260
10:16
Scheduled
Sioux Falls (FSD)
American Airlines
AA2872
10:16
Scheduled
San Antonio (SAT)
American Airlines
AA1957 expand_more(1)
10:16
Scheduled
San Antonio (SAT)
Jet Linx Aviation
JL7274
10:16
Scheduled
Mexico City (MEX)
American Airlines
AA393 expand_more(1)
10:17
Scheduled
Mexico City (MEX)
Jet Linx Aviation
JL7202
10:17
Scheduled
Knoxville (TYS)
American Airlines
AA2544 expand_more(2)
10:17
Scheduled
Knoxville (TYS)
Alaska Airlines
AS6705
10:17
Scheduled
Knoxville (TYS)
Jet Linx Aviation
JL7638
10:17
Scheduled
Philadelphia (PHL)
American Airlines
AA470 expand_more(5)
10:18
Scheduled
Philadelphia (PHL)
Aer Lingus
EI7248
10:18
Scheduled
Philadelphia (PHL)
British Airways
BA2449
10:18
Scheduled
Philadelphia (PHL)
GOL Linhas Aereas
G36085
10:18
Scheduled
Philadelphia (PHL)
Jet Linx Aviation
JL7418
10:18
Scheduled
Philadelphia (PHL)
Qantas
QF4308
10:18
Scheduled
Corpus Christi (CRP)
American Eagle
AA3546
10:18
Scheduled
Amarillo (AMA)
American Eagle
AA3478
10:19
Scheduled
Indianapolis (IND)
American Airlines
AA2456 expand_more(1)
10:19
Scheduled
Indianapolis (IND)
Jet Linx Aviation
JL7698
10:19
Scheduled
Charlotte (CLT)
American Airlines
AA784 expand_more(3)
10:20
Scheduled
Charlotte (CLT)
GOL Linhas Aereas
G36096
10:20
Scheduled
Charlotte (CLT)
Jet Linx Aviation
JL7328
10:20
Scheduled
Charlotte (CLT)
Qantas
QF3240
10:20
Scheduled
Monterey (MRY)
American Airlines
AA2879 expand_more(1)
10:20
Scheduled
Monterey (MRY)
Alaska Airlines
AS6973
10:20
Scheduled
Detroit (DTW)
Spirit Airlines
NK810
10:20
Scheduled
Oklahoma City (OKC)
American Airlines
AA2497 expand_more(1)
10:20
Scheduled
Oklahoma City (OKC)
Jet Linx Aviation
JL7270
10:20
Scheduled
Nashville (BNA)
American Airlines
AA1396 expand_more(1)
10:20
Scheduled
Nashville (BNA)
Jet Linx Aviation
JL7298
10:20
Scheduled
Midland (MAF)
American Eagle
AA3875
10:20
Scheduled
Wichita (ICT)
American Eagle
AA3860 expand_more(1)
10:21
Scheduled
Wichita (ICT)
Jet Linx Aviation
JL7348
10:21
Scheduled
Eagle (EGE)
American Airlines
AA1341 expand_more(1)
10:21
Scheduled
Eagle (EGE)
GOL Linhas Aereas
G36153
10:21
Scheduled
Huntsville (HSV)
American Eagle
AA3840 expand_more(1)
10:22
Scheduled
Huntsville (HSV)
Jet Linx Aviation
JL7248
10:22
Scheduled
Puerto Vallarta (PVR)
American Airlines
AA1215 expand_more(2)
10:23
Scheduled
Puerto Vallarta (PVR)
British Airways
BA2461
10:23
Scheduled
Puerto Vallarta (PVR)
Jet Linx Aviation
JL7671
10:23
Scheduled
Baltimore (BWI)
Spirit Airlines
NK202
10:24
Scheduled
Dayton (DAY)
American Eagle
AA5643 expand_more(1)
10:25
Scheduled
Dayton (DAY)
Jet Linx Aviation
JL7654
10:25
Scheduled
Houston (HOU)
American Eagle
AA3833 expand_more(1)
10:26
Scheduled
Houston (HOU)
Jet Linx Aviation
JL7242
10:26
Scheduled
Tallahassee (TLH)
American Eagle
AA3514
10:26
Scheduled
Shreveport (SHV)
American Eagle
AA5115
10:26
Scheduled
Tampa (TPA)
American Airlines
AA2515 expand_more(2)
10:27
Scheduled
Tampa (TPA)
GOL Linhas Aereas
G36305
10:27
Scheduled
Tampa (TPA)
Jet Linx Aviation
JL7402
10:27
Scheduled
New York (EWR)
United Airlines
UA1365 expand_more(3)
10:27
Scheduled
New York (EWR)
Brussels Airlines
SN8846
10:27
Scheduled
New York (EWR)
SAS
SK6730
10:27
Scheduled
New York (EWR)
TAP Air Portugal
TP8525
10:27
Scheduled
Baltimore (BWI)
American Airlines
AA2314 expand_more(1)
10:28
Scheduled
Baltimore (BWI)
Qantas
QF4565
10:28
Scheduled
Tulsa (TUL)
American Eagle
AA3663
10:28
Scheduled
Ontario (ONT)
American Airlines
AA222
10:29
Scheduled
Bozeman (BZN)
American Airlines
AA1526 expand_more(1)
10:29
Scheduled
Bozeman (BZN)
Alaska Airlines
AS6496
10:29
Scheduled
Fargo (FAR)
American Eagle
AA3825
10:29
Scheduled
Seattle (SEA)
American Airlines
AA2769 expand_more(3)
10:30
Scheduled
Seattle (SEA)
GOL Linhas Aereas
G36129
10:30
Scheduled
Seattle (SEA)
Jet Linx Aviation
JL7477
10:30
Scheduled
Seattle (SEA)
Qatar Airways
QR7579
10:30
Scheduled
Columbia (COU)
American Eagle
AA3686
10:30
Scheduled
Montreal (YUL)
American Airlines
AA1963 expand_more(1)
10:30
Scheduled
Montreal (YUL)
GOL Linhas Aereas
G36490
10:30
Scheduled
Norfolk (ORF)
American Airlines
AA2638 expand_more(1)
10:30
Scheduled
Norfolk (ORF)
Jet Linx Aviation
JL7292
10:30
Scheduled
McAllen (MFE)
American Airlines
AA1464
10:30
Scheduled
Cedar Rapids (CID)
American Airlines
AA1905
10:30
Scheduled
Palm Springs (PSP)
American Airlines
AA2673
10:32
Scheduled
Denver (DEN)
Frontier
F9505 expand_more(1)
10:32
Scheduled
Denver (DEN)
Volaris
Y42156
10:32
Scheduled
Durango (DRO)
American Eagle
AA4931
10:33
Scheduled
Guatemala City (GUA)
American Airlines
AA1013
10:34
Scheduled
Tucson (TUS)
American Airlines
AA2927 expand_more(1)
10:35
Scheduled
Tucson (TUS)
Jet Linx Aviation
JL7426
10:35
Scheduled
Boston (BOS)
American Airlines
AA1163 expand_more(3)
10:35
Scheduled
Boston (BOS)
GOL Linhas Aereas
G36246
10:35
Scheduled
Boston (BOS)
Iberia
IB4714
10:35
Scheduled
Boston (BOS)
Jet Linx Aviation
JL7314
10:35
Scheduled
Queretaro (QRO)
American Airlines
AA2302 expand_more(1)
10:35
Scheduled
Queretaro (QRO)
Jet Linx Aviation
JL7284
10:35
Scheduled
Austin (AUS)
American Airlines
AA2124 expand_more(1)
10:35
Scheduled
Austin (AUS)
Jet Linx Aviation
JL7236
10:35
Scheduled
Roswell (ROW)
American Eagle
AA3100
10:36
Scheduled
Las Vegas (LAS)
American Airlines
AA1853 expand_more(1)
10:37
Scheduled
Las Vegas (LAS)
GOL Linhas Aereas
G36247
10:37
Scheduled
Miami (MIA)
American Airlines
AA2575 expand_more(4)
10:40
Scheduled
Miami (MIA)
British Airways
BA2401
10:40
Scheduled
Miami (MIA)
GOL Linhas Aereas
G36375
10:40
Scheduled
Miami (MIA)
Iberia
IB4572
10:40
Scheduled
Miami (MIA)
Jet Linx Aviation
JL7358
10:40
Scheduled
Portland (PDX)
American Airlines
AA2496 expand_more(1)
10:40
Scheduled
Portland (PDX)
GOL Linhas Aereas
G36135
10:40
Scheduled
Charlotte (CLT)
Spirit Airlines
NK1108
10:40
Scheduled
Columbus (CMH)
American Airlines
AA1492 expand_more(1)
10:41
Scheduled
Columbus (CMH)
Jet Linx Aviation
JL7338
10:41
Scheduled
Fort Myers (RSW)
American Airlines
AA2740 expand_more(2)
10:44
Scheduled
Fort Myers (RSW)
Alaska Airlines
AS6055
10:44
Scheduled
Fort Myers (RSW)
Jet Linx Aviation
JL7386
10:44
Scheduled
Richmond (RIC)
American Airlines
AA1915
10:44
Scheduled
Honolulu (HNL)
American Airlines
AA115 expand_more(2)
10:45
Scheduled
Honolulu (HNL)
GOL Linhas Aereas
G36438
10:45
Scheduled
Honolulu (HNL)
Qantas
QF3193
10:45
Scheduled
Kahului (OGG)
American Airlines
AA119
10:45
Scheduled
Minneapolis (MSP)
Delta Air Lines
DL1515 expand_more(4)
10:46
Scheduled
Minneapolis (MSP)
Air France
AF6872
10:46
Scheduled
Minneapolis (MSP)
KLM
KL5607
10:46
Scheduled
Minneapolis (MSP)
Virgin Atlantic
VS1506
10:46
Scheduled
Minneapolis (MSP)
WestJet
WS6769
10:46
Scheduled
Burbank (BUR)
American Airlines
AA1208
10:47
Scheduled
Chicago (ORD)
United Airlines
UA1634 expand_more(6)
10:47
Scheduled
Chicago (ORD)
Air Canada
AC3185
10:47
Scheduled
Chicago (ORD)
Austrian Airlines
OS7708
10:47
Scheduled
Chicago (ORD)
Brussels Airlines
SN9001
10:47
Scheduled
Chicago (ORD)
LOT
LO4354
10:47
Scheduled
Chicago (ORD)
Lufthansa
LH7469
10:47
Scheduled
Chicago (ORD)
Swiss
LX3277
10:47
Scheduled
Santa Fe (SAF)
American Airlines
AA4989
10:50
Scheduled
Phoenix (PHX)
American Airlines
AA417 expand_more(1)
10:51
Scheduled
Phoenix (PHX)
GOL Linhas Aereas
G36107
10:51
Scheduled
Atlanta (ATL)
Delta Air Lines
DL924 expand_more(6)
10:55
Scheduled
Atlanta (ATL)
Aeromexico
AM3577
10:55
Scheduled
Atlanta (ATL)
Air France
AF2572
10:55
Scheduled
Atlanta (ATL)
KLM
KL5867
10:55
Scheduled
Atlanta (ATL)
LATAM Airlines
LA6440
10:55
Scheduled
Atlanta (ATL)
Virgin Atlantic
VS5092
10:55
Scheduled
Atlanta (ATL)
WestJet
WS6758
10:55
Scheduled
Waynesville (TBN)
Contour Aviation
LF3552
10:55
Scheduled
Waynesville (TBN)
Contour Aviation
LF355
10:55
Scheduled
Bismarck (BIS)
American Eagle
AA3839
10:56
Scheduled
Toronto (YYZ)
Air Canada
AC1030 expand_more(2)
11:00
Scheduled
Toronto (YYZ)
Turkish Airlines
TK8659
11:00
Scheduled
Toronto (YYZ)
United Airlines
UA8144
11:00
Scheduled
Los Angeles (LAX)
American Airlines
AA1711 expand_more(3)
11:00
Scheduled
Los Angeles (LAX)
Air Tahiti Nui
TN1287
11:00
Scheduled
Los Angeles (LAX)
Jet Linx Aviation
JL7507
11:00
Scheduled
Los Angeles (LAX)
Qatar Airways
QR2726
11:00
Scheduled
Silao (BJX)
American Airlines
AA1393 expand_more(3)
11:01
Scheduled
Silao (BJX)
British Airways
BA5565
11:01
Scheduled
Silao (BJX)
Jet Linx Aviation
JL7280
11:01
Scheduled
Silao (BJX)
Qatar Airways
QR2514
11:01
Scheduled
San Francisco (SFO)
American Airlines
AA2405 expand_more(4)
11:02
Scheduled
San Francisco (SFO)
GOL Linhas Aereas
G36173
11:02
Scheduled
San Francisco (SFO)
Jet Linx Aviation
JL7577
11:02
Scheduled
San Francisco (SFO)
Qantas
QF3058
11:02
Scheduled
San Francisco (SFO)
Qatar Airways
QR7591
11:02
Scheduled
Savannah (SAV)
American Eagle
AA3734 expand_more(2)
11:03
Scheduled
Savannah (SAV)
Alaska Airlines
AS4212
11:03
Scheduled
Savannah (SAV)
Qatar Airways
QR2421
11:03
Scheduled
Lubbock (LBB)
American Eagle
AA3855 expand_more(1)
11:04
Scheduled
Lubbock (LBB)
Qatar Airways
QR2745
11:04
Scheduled
Detroit (DTW)
Delta Air Lines
DL1010 expand_more(4)
11:09
Scheduled
Detroit (DTW)
Air France
AF5733
11:09
Scheduled
Detroit (DTW)
KLM
KL5869
11:09
Scheduled
Detroit (DTW)
Virgin Atlantic
VS1636
11:09
Scheduled
Detroit (DTW)
WestJet
WS8344
11:09
Scheduled
Detroit (DTW)
American Airlines
AA1669 expand_more(2)
11:10
Scheduled
Detroit (DTW)
GOL Linhas Aereas
G36184
11:10
Scheduled
Detroit (DTW)
Qatar Airways
QR2594
11:10
Scheduled
Idaho Falls (IDA)
Delta Connection
AA4831
11:10
Scheduled
Tokyo (HND)
Japan Airlines
JL11 expand_more(2)
11:10
Scheduled
Tokyo (HND)
American Airlines
AA8481
11:10
Scheduled
Tokyo (HND)
Malaysia Airlines
MH9149
11:10
Scheduled
Morelia (MLM)
American Airlines
AA2136 expand_more(1)
11:13
Scheduled
Morelia (MLM)
British Airways
BA2405
11:13
Scheduled
Birmingham (BHM)
American Airlines
AA2176 expand_more(2)
11:14
Scheduled
Birmingham (BHM)
Japan Airlines
JL7286
11:14
Scheduled
Birmingham (BHM)
Qatar Airways
QR2813
11:14
Scheduled
Aguascalientes (AGU)
American Eagle
AA4958 expand_more(1)
11:14
Scheduled
Aguascalientes (AGU)
Japan Airlines
JL7224
11:14
Scheduled
Louisville (SDF)
American Eagle
AA3900 expand_more(2)
11:16
Scheduled
Louisville (SDF)
Japan Airlines
JL7472
11:16
Scheduled
Louisville (SDF)
Qatar Airways
QR2702
11:16
Scheduled
Orlando (MCO)
American Airlines
AA2121 expand_more(4)
11:20
Scheduled
Orlando (MCO)
British Airways
BA2386
11:20
Scheduled
Orlando (MCO)
GOL Linhas Aereas
G36056
11:20
Scheduled
Orlando (MCO)
Japan Airlines
JL7352
11:20
Scheduled
Orlando (MCO)
Qatar Airways
QR2783
11:20
Scheduled
Clovis (CVN)
Key Lime Air
KG5411
11:20
Scheduled
Raleigh-Durham (RDU)
American Airlines
AA2381 expand_more(4)
11:23
Scheduled
Raleigh-Durham (RDU)
GOL Linhas Aereas
G36237
11:23
Scheduled
Raleigh-Durham (RDU)
Japan Airlines
JL7592
11:23
Scheduled
Raleigh-Durham (RDU)
Qantas
QF4508
11:23
Scheduled
Raleigh-Durham (RDU)
Qatar Airways
QR9565
11:23
Scheduled
New York (LGA)
American Airlines
AA2818 expand_more(1)
11:25
Scheduled
New York (LGA)
JetBlue Airways
B64205
11:25
Scheduled
New York (EWR)
American Airlines
AA813 expand_more(2)
11:25
Scheduled
New York (EWR)
GOL Linhas Aereas
G36061
11:25
Scheduled
New York (EWR)
JetBlue Airways
B64356
11:25
Scheduled
Santa Ana (SNA)
American Airlines
AA2467 expand_more(1)
11:26
Scheduled
Santa Ana (SNA)
Qatar Airways
QR2497
11:26
Scheduled
Charleston (CHS)
American Airlines
AA1633 expand_more(1)
11:26
Scheduled
Charleston (CHS)
Qatar Airways
QR9606
11:26
Scheduled
St. George (SGU)
American Eagle
AA3267 expand_more(1)
11:28
Scheduled
St. George (SGU)
Qatar Airways
QR2294
11:28
Scheduled
Billings (BIL)
American Eagle
AA4095 expand_more(3)
11:29
Scheduled
Billings (BIL)
Alaska Airlines
AS4765
11:29
Scheduled
Billings (BIL)
Qantas
QF3021
11:29
Scheduled
Billings (BIL)
Qatar Airways
QR7637
11:29
Scheduled
Denver (DEN)
United Airlines
UA445 expand_more(1)
11:30
Scheduled
Denver (DEN)
Air Canada
AC4567
11:30
Scheduled
Orlando (MCO)
Spirit Airlines
NK391
11:30
Scheduled
Salt Lake City (SLC)
American Airlines
AA2439 expand_more(3)
11:31
Scheduled
Salt Lake City (SLC)
British Airways
BA6547
11:31
Scheduled
Salt Lake City (SLC)
GOL Linhas Aereas
G36154
11:31
Scheduled
Salt Lake City (SLC)
Qatar Airways
QR7624
11:31
Scheduled
Fresno (FAT)
American Airlines
AA2393 expand_more(1)
11:34
Scheduled
Fresno (FAT)
Qatar Airways
QR2580
11:34
Scheduled
Kalispell (FCA)
American Airlines
AA1375 expand_more(2)
11:35
Scheduled
Kalispell (FCA)
Alaska Airlines
AS6503
11:35
Scheduled
Kalispell (FCA)
Qatar Airways
QR9356
11:35
Scheduled
San Diego (SAN)
American Airlines
AA2322 expand_more(4)
11:38
Scheduled
San Diego (SAN)
Alaska Airlines
AS4403
11:38
Scheduled
San Diego (SAN)
British Airways
BA2471
11:38
Scheduled
San Diego (SAN)
GOL Linhas Aereas
G36395
11:38
Scheduled
San Diego (SAN)
Qatar Airways
QR7556
11:38
Scheduled
Windsor Locks (BDL)
American Airlines
AA1367
11:38
Scheduled
Yuma (YUM)
American Eagle
AA3023 expand_more(1)
11:39
Scheduled
Yuma (YUM)
Qatar Airways
QR2423
11:39
Scheduled
Chicago (ORD)
American Airlines
AA2428 expand_more(3)
11:40
Scheduled
Chicago (ORD)
Aer Lingus
EI7130
11:40
Scheduled
Chicago (ORD)
British Airways
BA2442
11:40
Scheduled
Chicago (ORD)
Qatar Airways
QR2875
11:40
Scheduled
Tokyo (NRT)
American Airlines
AA61 expand_more(2)
11:44
Scheduled
Tokyo (NRT)
Japan Airlines
JL7011
11:44
Scheduled
Tokyo (NRT)
Malaysia Airlines
MH9390
11:44
Scheduled
Las Vegas (LAS)
Spirit Airlines
NK1971
11:45
Scheduled
Los Angeles (LAX)
Spirit Airlines
NK470
11:45
Scheduled
San Jose (SJC)
American Airlines
AA2834 expand_more(3)
11:49
Scheduled
San Jose (SJC)
Alaska Airlines
AS6273
11:49
Scheduled
San Jose (SJC)
British Airways
BA4315
11:49
Scheduled
San Jose (SJC)
Qatar Airways
QR9453
11:49
Scheduled
Boston (BOS)
Delta Air Lines
DL760
11:50
Scheduled
Cincinnati (CVG)
American Airlines
AA1658 expand_more(2)
11:53
Scheduled
Cincinnati (CVG)
Japan Airlines
JL7332
11:53
Scheduled
Cincinnati (CVG)
Qatar Airways
QR9554
11:53
Scheduled
Chicago (MDW)
Frontier
F91370 expand_more(1)
11:53
Scheduled
Chicago (MDW)
Volaris
Y42324
11:53
Scheduled
Washington (IAD)
United Airlines
UA358 expand_more(2)
12:00
Scheduled
Washington (IAD)
Brussels Airlines
SN8907
12:00
Scheduled
Washington (IAD)
SAS
SK6811
12:00
Scheduled
Sacramento (SMF)
American Airlines
AA2078 expand_more(1)
12:01
Scheduled
Sacramento (SMF)
Qatar Airways
QR9455
12:01
Scheduled
Miami (MIA)
Spirit Airlines
NK3161
12:05
Scheduled
Ontario (ONT)
Frontier
F92737 expand_more(1)
12:08
Scheduled
Ontario (ONT)
Volaris
Y42876
12:08
Scheduled
Montgomery (MGM)
American Eagle
AA3882 expand_more(1)
12:09
Scheduled
Montgomery (MGM)
Qatar Airways
QR2805
12:09
Scheduled
New York (JFK)
Delta Air Lines
DL534 expand_more(7)
12:11
Scheduled
New York (JFK)
Aeromexico
AM3360
12:11
Scheduled
New York (JFK)
Air France
AF2357
12:11
Scheduled
New York (JFK)
ITA Airways
AZ3403
12:11
Scheduled
New York (JFK)
KLM
KL7404
12:11
Scheduled
New York (JFK)
Korean Air
KE7326
12:11
Scheduled
New York (JFK)
LATAM Airlines
LA6441
12:11
Scheduled
New York (JFK)
Virgin Atlantic
VS3471
12:11
Scheduled
Orlando (MCO)
Frontier
F91246 expand_more(1)
12:12
Scheduled
Orlando (MCO)
Volaris
Y42061
12:12
Scheduled
Dubai (DXB)
Emirates
EK222
12:15
Scheduled
Laredo (LRD)
American Eagle
AA3808 expand_more(1)
12:19
Scheduled
Laredo (LRD)
Qatar Airways
QR7787
12:19
Scheduled
Tucson (TUS)
American Airlines
AA2926 expand_more(2)
12:19
Scheduled
Tucson (TUS)
British Airways
BA4342
12:19
Scheduled
Tucson (TUS)
Qatar Airways
QR7667
12:19
Scheduled
New York (LGA)
American Airlines
AA541 expand_more(1)
12:19
Scheduled
New York (LGA)
JetBlue Airways
B64025
12:19
Scheduled
Augusta (AGS)
American Eagle
AA3744 expand_more(1)
12:19
Scheduled
Augusta (AGS)
Qatar Airways
QR2429
12:19
Scheduled
Washington (DCA)
American Airlines
AA1579
12:19
Scheduled
Gainesville (GNV)
American Eagle
AA3593 expand_more(1)
12:19
Scheduled
Gainesville (GNV)
Qatar Airways
QR2616
12:19
Scheduled
St. Louis (STL)
American Eagle
AA3781 expand_more(3)
12:19
Scheduled
St. Louis (STL)
Alaska Airlines
AS6656
12:19
Scheduled
St. Louis (STL)
GOL Linhas Aereas
G36050
12:19
Scheduled
St. Louis (STL)
Qatar Airways
QR9352
12:19
Scheduled
Reno (RNO)
American Airlines
AA1923 expand_more(3)
12:19
Scheduled
Reno (RNO)
British Airways
BA2464
12:19
Scheduled
Reno (RNO)
Qantas
QF4475
12:19
Scheduled
Reno (RNO)
Qatar Airways
QR2943
12:19
Scheduled
Washington (IAD)
American Airlines
AA2414 expand_more(4)
12:19
Scheduled
Washington (IAD)
Alaska Airlines
AS6060
12:19
Scheduled
Washington (IAD)
GOL Linhas Aereas
G36194
12:19
Scheduled
Washington (IAD)
Qantas
QF4564
12:19
Scheduled
Washington (IAD)
Qatar Airways
QR2671
12:19
Scheduled
Greenville-Spartanburg (GSP)
American Airlines
AA2732 expand_more(3)
12:19
Scheduled
Greenville-Spartanburg (GSP)
Alaska Airlines
AS6711
12:19
Scheduled
Greenville-Spartanburg (GSP)
Japan Airlines
JL7206
12:19
Scheduled
Greenville-Spartanburg (GSP)
Qatar Airways
QR2326
12:19
Scheduled
Houston (IAH)
American Airlines
AA2444 expand_more(5)
12:19
Scheduled
Houston (IAH)
Alaska Airlines
AS6395
12:19
Scheduled
Houston (IAH)
British Airways
BA1979
12:19
Scheduled
Houston (IAH)
Japan Airlines
JL7252
12:19
Scheduled
Houston (IAH)
Qantas
QF4545
12:19
Scheduled
Houston (IAH)
Qatar Airways
QR2675
12:19
Scheduled
Amarillo (AMA)
American Eagle
AA3196 expand_more(1)
12:19
Scheduled
Amarillo (AMA)
Qatar Airways
QR2402
12:19
Scheduled
Springfield (SGF)
American Eagle
AA4191 expand_more(1)
12:19
Scheduled
Springfield (SGF)
Qatar Airways
QR7599
12:19
Scheduled
Little Rock (LIT)
American Eagle
AA4242 expand_more(2)
12:20
Scheduled
Little Rock (LIT)
Alaska Airlines
AS6099
12:20
Scheduled
Little Rock (LIT)
Qatar Airways
QR2765
12:20
Scheduled
Seattle (SEA)
American Airlines
AA1992 expand_more(1)
12:20
Scheduled
Seattle (SEA)
Qatar Airways
QR7581
12:20
Scheduled
Toronto (YYZ)
American Airlines
AA1111 expand_more(2)
12:20
Scheduled
Toronto (YYZ)
Alaska Airlines
AS6029
12:20
Scheduled
Toronto (YYZ)
GOL Linhas Aereas
G36491
12:20
Scheduled
Jacksonville (JAX)
American Airlines
AA2465 expand_more(3)
12:21
Scheduled
Jacksonville (JAX)
Alaska Airlines
AS4365
12:21
Scheduled
Jacksonville (JAX)
Japan Airlines
JL7258
12:21
Scheduled
Jacksonville (JAX)
Qatar Airways
QR2209
12:21
Scheduled
Sarasota (SRQ)
American Airlines
AA2679 expand_more(1)
12:21
Scheduled
Sarasota (SRQ)
Qatar Airways
QR7641
12:21
Scheduled
Cancun (CUN)
American Airlines
AA2207 expand_more(2)
12:22
Scheduled
Cancun (CUN)
Japan Airlines
JL7216
12:22
Scheduled
Cancun (CUN)
Qatar Airways
QR2512
12:22
Scheduled
Bentonville (XNA)
American Eagle
AA4847 expand_more(1)
12:23
Scheduled
Bentonville (XNA)
Qatar Airways
QR7861
12:23
Scheduled
San Jose del Cabo (SJD)
American Airlines
AA1663 expand_more(2)
12:23
Scheduled
San Jose del Cabo (SJD)
British Airways
BA4322
12:23
Scheduled
San Jose del Cabo (SJD)
Qatar Airways
QR7614
12:23
Scheduled
Houston (IAH)
Mesa Airlines
UA6206 expand_more(2)
12:23
Scheduled
Houston (IAH)
Air New Zealand
NZ6527
12:23
Scheduled
Houston (IAH)
Copa Airlines
CM1329
12:23
Scheduled
Torreon (TRC)
American Eagle
AA3776
12:24
Scheduled
Atlanta (ATL)
American Airlines
AA1008 expand_more(4)
12:25
Scheduled
Atlanta (ATL)
Alaska Airlines
AS6136
12:25
Scheduled
Atlanta (ATL)
Japan Airlines
JL7276
12:25
Scheduled
Atlanta (ATL)
Qantas
QF4375
12:25
Scheduled
Atlanta (ATL)
Qatar Airways
QR2380
12:25
Scheduled
Jackson (JAC)
American Airlines
AA1705 expand_more(1)
12:25
Scheduled
Jackson (JAC)
Qatar Airways
QR2696
12:25
Scheduled
Myrtle Beach (MYR)
American Eagle
AA3626 expand_more(1)
12:25
Scheduled
Myrtle Beach (MYR)
Qatar Airways
QR2883
12:25
Scheduled
Phoenix (PHX)
American Airlines
AA407 expand_more(1)
12:26
Scheduled
Phoenix (PHX)
Qatar Airways
QR2902
12:26
Scheduled
Lubbock (LBB)
American Eagle
AA3223
12:27
Scheduled
Monterrey (MTY)
American Airlines
AA2168 expand_more(2)
12:27
Scheduled
Monterrey (MTY)
British Airways
BA2418
12:27
Scheduled
Monterrey (MTY)
Japan Airlines
JL7214
12:27
Scheduled
Charlotte (CLT)
American Airlines
AA2623 expand_more(3)
12:27
Scheduled
Charlotte (CLT)
Japan Airlines
JL7576
12:27
Scheduled
Charlotte (CLT)
Qantas
QF4611
12:27
Scheduled
Charlotte (CLT)
Qatar Airways
QR2479
12:27
Scheduled
Beaumont (BPT)
American Eagle
AA4999 expand_more(1)
12:28
Scheduled
Beaumont (BPT)
Qatar Airways
QR2437
12:28
Scheduled
Tokyo (HND)
American Airlines
AA175 expand_more(1)
12:29
Scheduled
Tokyo (HND)
Japan Airlines
JL7013
12:29
Scheduled
Houston (HOU)
American Eagle
AA3849 expand_more(2)
12:29
Scheduled
Houston (HOU)
British Airways
BA1976
12:29
Scheduled
Houston (HOU)
Japan Airlines
JL7244
12:29
Scheduled
Midland (MAF)
American Eagle
AA3873 expand_more(1)
12:29
Scheduled
Midland (MAF)
Qatar Airways
QR2759
12:29
Scheduled
Las Vegas (LAS)
American Airlines
AA1599
12:30
Scheduled
Los Angeles (LAX)
American Airlines
AA1331
12:30
Scheduled
Tulsa (TUL)
American Eagle
AA3906
12:30
Scheduled
Austin (AUS)
American Airlines
AA1333
12:30
Scheduled
Stillwater (SWO)
American Airlines
AA4953
12:30
Scheduled
Buffalo (BUF)
American Airlines
AA519
12:31
Scheduled
Blountville (TRI)
American Eagle
AA3662
12:31
Scheduled
Lafayette (LFT)
American Eagle
AA5178
12:31
Scheduled
San Antonio (SAT)
American Airlines
AA1967
12:32
Scheduled
Atlanta (ATL)
Delta Air Lines
DL815
12:32
Scheduled
Santa Ana (SNA)
American Airlines
AA2861
12:33
Scheduled
San Luis Potosi (SLP)
American Airlines
AA1097
12:33
Scheduled
Brownsville (BRO)
American Eagle
AA3041
12:34
Scheduled
Norfolk (ORF)
American Eagle
AA3947
12:34
Scheduled
New Orleans (MSY)
American Airlines
AA1785
12:34
Scheduled
New York (LGA)
Delta Air Lines
DL1693 expand_more(1)
12:35
Scheduled
New York (LGA)
WestJet
WS6765
12:35
Scheduled
Oklahoma City (OKC)
American Airlines
AA868 expand_more(4)
12:35
Scheduled
Oklahoma City (OKC)
Alaska Airlines
AS4532
12:35
Scheduled
Oklahoma City (OKC)
British Airways
BA2422
12:35
Scheduled
Oklahoma City (OKC)
Jet Linx Aviation
JL7268
12:35
Scheduled
Oklahoma City (OKC)
Qatar Airways
QR2863
12:35
Scheduled
Boston (BOS)
American Airlines
AA1182 expand_more(3)
12:37
Scheduled
Boston (BOS)
British Airways
BA1916
12:37
Scheduled
Boston (BOS)
Qantas
QF4524
12:37
Scheduled
Boston (BOS)
Qatar Airways
QR2556
12:37
Scheduled
Ontario (ONT)
American Airlines
AA2635 expand_more(2)
12:38
Scheduled
Ontario (ONT)
British Airways
BA2430
12:38
Scheduled
Ontario (ONT)
Qatar Airways
QR2872
12:38
Scheduled
New York (JFK)
American Airlines
AA2246 expand_more(6)
12:38
Scheduled
New York (JFK)
British Airways
BA1989
12:38
Scheduled
New York (JFK)
Gulf Air
GF4256
12:38
Scheduled
New York (JFK)
Iberia
IB4260
12:38
Scheduled
New York (JFK)
JetBlue Airways
B64068
12:38
Scheduled
New York (JFK)
Qatar Airways
QR2708
12:38
Scheduled
New York (JFK)
Royal Air Maroc
AT5015
12:38
Scheduled
Chattanooga (CHA)
American Eagle
AA3458 expand_more(1)
12:39
Scheduled
Chattanooga (CHA)
Qatar Airways
QR2392
12:39
Scheduled
Boston (BOS)
JetBlue Airways
B61214 expand_more(5)
12:39
Scheduled
Boston (BOS)
Aer Lingus
EI5135
12:39
Scheduled
Boston (BOS)
El Al
LY8519
12:39
Scheduled
Boston (BOS)
Icelandair
FI7870
12:39
Scheduled
Boston (BOS)
Qatar Airways
QR3922
12:39
Scheduled
Boston (BOS)
TAP Air Portugal
TP4282
12:39
Scheduled
Denver (DEN)
American Airlines
AA420 expand_more(1)
12:40
Scheduled
Denver (DEN)
Qatar Airways
QR9472
12:40
Scheduled
Pittsburgh (PIT)
American Airlines
AA2664 expand_more(3)
12:40
Scheduled
Pittsburgh (PIT)
Alaska Airlines
AS6195
12:40
Scheduled
Pittsburgh (PIT)
Qantas
QF4710
12:40
Scheduled
Pittsburgh (PIT)
Qatar Airways
QR9459
12:40
Scheduled
Miami (MIA)
American Airlines
AA2808 expand_more(3)
12:41
Scheduled
Miami (MIA)
Alaska Airlines
AS4521
12:41
Scheduled
Miami (MIA)
Iberia
IB4284
12:41
Scheduled
Miami (MIA)
Qatar Airways
QR2815
12:41
Scheduled
Traverse City (TVC)
American Airlines
AA2511 expand_more(1)
12:43
Scheduled
Traverse City (TVC)
Qatar Airways
QR7669
12:43
Scheduled
Moline (MLI)
American Eagle
AA4249 expand_more(1)
12:46
Scheduled
Moline (MLI)
Qatar Airways
QR2827
12:46
Scheduled
Guadalajara (GDL)
American Airlines
AA387 expand_more(3)
12:47
Scheduled
Guadalajara (GDL)
British Airways
BA1968
12:47
Scheduled
Guadalajara (GDL)
Jet Linx Aviation
JL7600
12:47
Scheduled
Guadalajara (GDL)
Qatar Airways
QR2609
12:47
Scheduled
Anchorage (ANC)
EVA Air
BR697
12:50
Scheduled
Huntsville (HSV)
American Airlines
AA371 expand_more(2)
12:50
Scheduled
Huntsville (HSV)
Jet Linx Aviation
JL7246
12:50
Scheduled
Huntsville (HSV)
Qatar Airways
QR2850
12:50
Scheduled
McAllen (MFE)
American Eagle
AA3042 expand_more(2)
12:50
Scheduled
McAllen (MFE)
Alaska Airlines
AS4256
12:50
Scheduled
McAllen (MFE)
Qatar Airways
QR2634
12:50
Scheduled
Longview (GGG)
American Eagle
AA4983 expand_more(2)
12:51
Scheduled
Longview (GGG)
Alaska Airlines
AS4189
12:51
Scheduled
Longview (GGG)
Qatar Airways
QR9390
12:51
Scheduled
Baton Rouge (BTR)
American Eagle
AA5124 expand_more(2)
12:52
Scheduled
Baton Rouge (BTR)
Alaska Airlines
AS6439
12:52
Scheduled
Baton Rouge (BTR)
Qatar Airways
QR2388
12:52
Scheduled
Harlingen (HRL)
American Eagle
AA3601 expand_more(1)
12:52
Scheduled
Harlingen (HRL)
Qatar Airways
QR9445
12:52
Scheduled
Asheville (AVL)
American Airlines
AA462 expand_more(1)
12:53
Scheduled
Asheville (AVL)
Qatar Airways
QR2569
12:53
Scheduled
Salt Lake City (SLC)
Delta Air Lines
DL1329 expand_more(1)
12:53
Scheduled
Salt Lake City (SLC)
Virgin Atlantic
VS3615
12:53
Scheduled
Wichita Falls (SPS)
American Eagle
AA5009 expand_more(2)
12:55
Scheduled
Wichita Falls (SPS)
Alaska Airlines
AS4133
12:55
Scheduled
Wichita Falls (SPS)
Qatar Airways
QR9552
12:55
Scheduled
Pensacola (PNS)
American Airlines
AA2264 expand_more(3)
12:56
Scheduled
Pensacola (PNS)
Alaska Airlines
AS4134
12:56
Scheduled
Pensacola (PNS)
Jet Linx Aviation
JL7376
12:56
Scheduled
Pensacola (PNS)
Qatar Airways
QR2921
12:56
Scheduled
Orlando (MCO)
American Airlines
AA2155 expand_more(2)
12:58
Scheduled
Orlando (MCO)
Qantas
QF4584
12:58
Scheduled
Orlando (MCO)
Qatar Airways
QR7789
12:58
Scheduled
West Palm Beach (PBI)
American Airlines
AA2218 expand_more(3)
12:58
Scheduled
West Palm Beach (PBI)
Alaska Airlines
AS6214
12:58
Scheduled
West Palm Beach (PBI)
Jet Linx Aviation
JL7462
12:58
Scheduled
West Palm Beach (PBI)
Qatar Airways
QR2833
12:58
Scheduled
Nashville (BNA)
American Airlines
AA1100 expand_more(3)
12:59
Scheduled
Nashville (BNA)
Alaska Airlines
AS6199
12:59
Scheduled
Nashville (BNA)
British Airways
BA1909
12:59
Scheduled
Nashville (BNA)
Qatar Airways
QR2424
12:59
Scheduled
Seattle (SEA)
Alaska Airlines
AS566 expand_more(2)
13:00
Scheduled
Seattle (SEA)
Air Tahiti Nui
TN2355
13:00
Scheduled
Seattle (SEA)
Qatar Airways
QR2982
13:00
Scheduled
New York (LGA)
Spirit Airlines
NK718
13:00
Scheduled
Wilmington (ILM)
American Eagle
AA3632 expand_more(1)
13:02
Scheduled
Wilmington (ILM)
Qatar Airways
QR9500
13:02
Scheduled
Raleigh-Durham (RDU)
American Airlines
AA1740 expand_more(4)
13:03
Scheduled
Raleigh-Durham (RDU)
Alaska Airlines
AS4216
13:03
Scheduled
Raleigh-Durham (RDU)
GOL Linhas Aereas
G36045
13:03
Scheduled
Raleigh-Durham (RDU)
Qantas
QF4495
13:03
Scheduled
Raleigh-Durham (RDU)
Qatar Airways
QR2211
13:03
Scheduled
Panama City (ECP)
American Eagle
AA3584
13:05
Scheduled
Colorado Springs (COS)
American Airlines
AA1184
13:08
Scheduled
Albuquerque (ABQ)
American Airlines
AA942
13:10
Scheduled
Chicago (ORD)
American Airlines
AA2412
13:10
Scheduled
Destin Fort Walton Beach (VPS)
American Eagle
AA5267
13:11
Scheduled
Columbia (CAE)
American Airlines
AA2028
13:14
Scheduled
Santa Fe (SAF)
American Eagle
AA3191
13:14
Scheduled
Grand Island (GRI)
American Eagle
AA4956
13:14
Scheduled
Champaign (CMI)
American Eagle
AA3924
13:17
Scheduled
Des Moines (DSM)
American Airlines
AA1664
13:17
Scheduled
Las Vegas (LAS)
American Airlines
AA777
13:18
Scheduled
Bloomington (BMI)
American Eagle
AA3665
13:19
Scheduled
Peoria (PIA)
American Eagle
AA3897
13:20
Scheduled
Omaha (OMA)
American Airlines
AA2188
13:20
Scheduled
Memphis (MEM)
American Airlines
AA2553
13:21
Scheduled
Las Vegas (LAS)
Frontier
F92179
13:22
Scheduled
Tampa (TPA)
American Airlines
AA2484
13:26
Scheduled
Abilene (ABI)
American Eagle
AA3468
13:27
Scheduled
New York (LGA)
American Airlines
AA1105
13:28
Scheduled
Cleveland (CLE)
American Airlines
AA2067
13:30
Scheduled
Philadelphia (PHL)
American Airlines
AA1995
13:32
Scheduled
San Diego (SAN)
American Airlines
AA1798
13:32
Scheduled
San Francisco (SFO)
American Airlines
AA2177
13:34
Scheduled
Austin (AUS)
American Airlines
AA2933
13:35
Scheduled
Greensboro (GSO)
American Airlines
AA1598
13:38
Scheduled
Fort Lauderdale (FLL)
American Airlines
AA2399
13:38
Scheduled
Oakland (OAK)
Spirit Airlines
NK275
13:41
Scheduled
Birmingham (BHM)
American Eagle
AA3915
13:42
Scheduled
Denver (DEN)
United Airlines
UA1380
13:52
Scheduled
El Paso (ELP)
American Eagle
AA3585
13:53
Scheduled
Kansas City (MCI)
American Airlines
AA2064
13:56
Scheduled
Denver (DEN)
Frontier
F9509
13:59
Scheduled
Carlsbad (CNM)
Boutique Air
4B553
14:00
Scheduled
Los Angeles (LAX)
American Airlines
AA1039
14:00
Scheduled
Garden City (GCK)
American Eagle
AA3185
14:04
Scheduled
Chicago (ORD)
United Airlines
UA2015
14:12
Scheduled
Tucson (TUS)
American Airlines
AA584
14:16
Scheduled
South Bend (SBN)
American Eagle
AA3084
14:18
Scheduled
Dayton (DAY)
American Eagle
AA5384
14:19
Scheduled
Houston (IAH)
United Express
UA6196
14:19
Scheduled
Milwaukee (MKE)
American Airlines
AA1733
14:19
Scheduled
Mexico City (MEX)
American Airlines
AA2350
14:24
Scheduled
Jackson (JAN)
American Eagle
AA4217
14:24
Scheduled
Fort Wayne (FWA)
American Eagle
AA3609
14:25
Scheduled
Phoenix (PHX)
American Airlines
AA967
14:25
Scheduled
Little Rock (LIT)
American Eagle
AA5085
14:25
Scheduled
Pittsburgh (PIT)
American Airlines
AA1868
14:25
Scheduled
Indianapolis (IND)
American Airlines
AA1505
14:25
Scheduled
New York (JFK)
American Airlines
AA820
14:26
Scheduled
Miami (MIA)
American Airlines
AA1405
14:26
Scheduled
Knoxville (TYS)
American Airlines
AA2542
14:26
Scheduled
Louisville (SDF)
American Airlines
AA2356
14:26
Scheduled
Atlanta (ATL)
American Airlines
AA1051
14:28
Scheduled
Sioux Falls (FSD)
American Eagle
AA3027
14:30
Scheduled
Madison (MSN)
American Airlines
AA1736
14:30
Scheduled
Springfield (SGF)
American Eagle
AA3750
14:30
Scheduled
Austin (AUS)
American Eagle
AA3365
14:30
Scheduled
Baton Rouge (BTR)
American Eagle
AA3695
14:31
Scheduled
McAllen (MFE)
American Airlines
AA2858
14:31
Scheduled
Aspen (ASE)
American Airlines
AA3057
14:33
Scheduled
Tallahassee (TLH)
American Eagle
AA3894
14:34
Scheduled
San Antonio (SAT)
American Airlines
AA1961
14:35
Scheduled
Wichita (ICT)
American Eagle
AA3843
14:36
Scheduled
Rapid City (RAP)
American Eagle
AA3886
14:36
Scheduled
Rome (FCO)
American Airlines
AA240
14:38
Scheduled
Bentonville (XNA)
American Eagle
AA3793
14:38
Scheduled
Fort Lauderdale (FLL)
Spirit Airlines
NK3060
14:38
Scheduled
Santa Ana (SNA)
American Airlines
AA2659
14:38
Scheduled
Charlotte (CLT)
American Airlines
AA2303
14:39
Scheduled
Manhattan (MHK)
American Eagle
AA3461
14:39
Scheduled
Amarillo (AMA)
American Eagle
AA4146
14:39
Scheduled
Salt Lake City (SLC)
Delta Air Lines
DL1202
14:40
Scheduled
Flying To and From Dallas Airport
This page provides information about the destinations that can be reached via Dallas Airport.
Was your flight delayed or cancelled?
You may be eligible to receive up to 600 EUR compensation per person in your party..
Claim Now!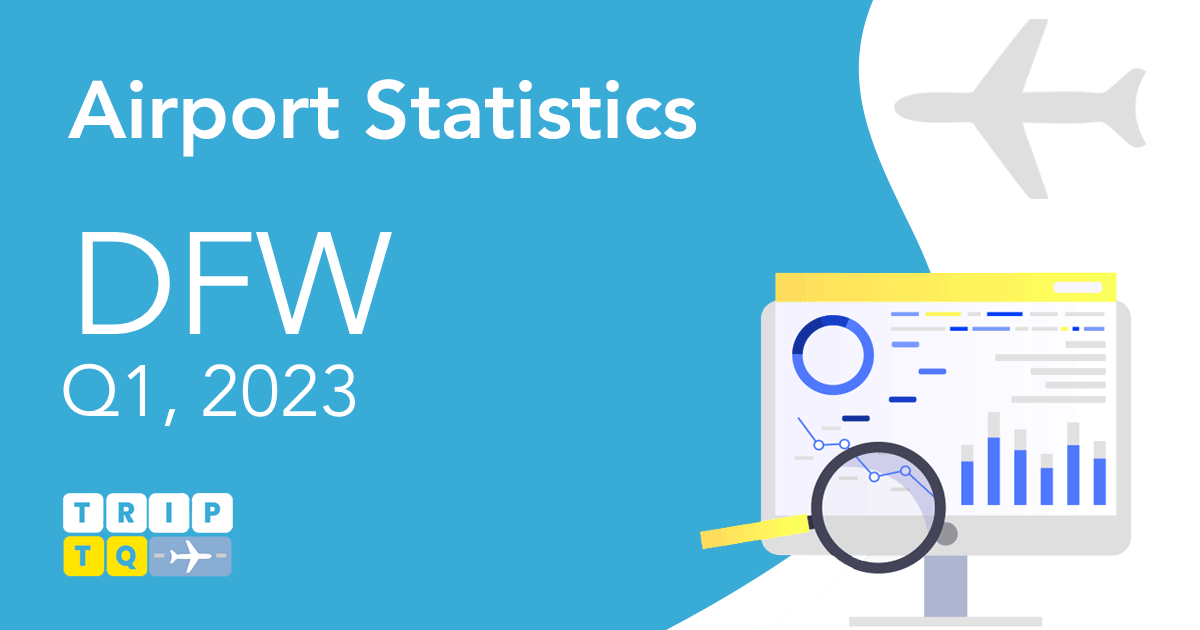 Dallas Airport has achieved a remarkable milestone in Q1, setting a record for passenger numbers. The airport experienced a notable increase of 18% compared to the previous year. Compared to the pre-pandemic period, it saw a commendable growth of 7%.